British Cycling: Rider commission aims to protect athlete welfare
Last updated on .From the section Cycling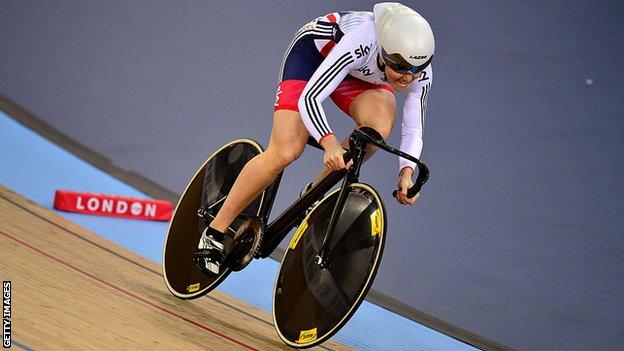 British Cycling is taking steps to improve culture and "break down the us versus them mentality", according to Para-track cyclist Pete Mitchell.
A new Rider Representative Commission (RPC) has been set up, involving 16 cyclists within the British team.
Mitchell has been named chair of the group and will work with senior management to discuss athlete welfare.
It follows a series of claims of a culture of fear and bullying within the sport's governing body.
A report into the allegations, published in 2017 by British Rowing chair Annamarie Phelps, said the body lacked good governance.
The review was conducted after former technical director Shane Sutton was suspended and then resigned in 2016 after he was found to have used "inappropriate and discriminatory language" towards sprint cyclist Jess Varnish.
Sutton was cleared of eight other allegations against him.
Earlier in February this year, four support staff were forced to apologise after "inappropriate" photos were posted on social media.
Mitchell says this is a chance for new conversations between riders and management within the governing body.
"It's a refreshing improvement to our team culture and has gone a long way to break down the "us versus them" mentality that many felt previously existed."
"The RRC is really important to us as riders and we've already seen some tangible improvements since its inception."
British Cycling's performance director Stephen Park said: "This will help to ensure that all areas of British Cycling can best support the riders' needs, be directly informed about the rider experience and ensure the views of the riders are being heard with the relevant actions being considered.
"Ensuring athletes have a voice in the decision-making process across all the Olympic and Paralympic sports is high on UK Sport's agenda and I'm pleased we have been able make good progress in establishing our own commission."
British Cycling's Rider Representative Commission 2017-18:
Katie Archibald, Elinor Barker, Alice Barnes, Sophie Capewell, Ed Clancy, Ellie Dickinson, Kian Emadi, Neil Fachie, Quillan Isidore, Mel Lowther, Katy Marchant, Pete Mitchell, Ryan Owens, Helen Scott, Callum Skinner, Sophie Thornhill