Luke Rowe: Racing again after six months is 'miraculous'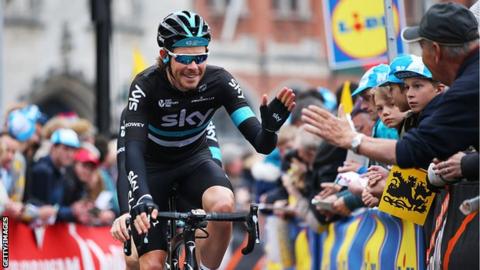 Team Sky's Luke Rowe has described his racing return just six months after breaking his leg as "miraculous".
The 27-year-old safely completed the first stage of the Abu Dhabi Tour on Wednesday, on a day where Mark Cavendish crashed out.
The Welshman broke his leg in 25 places while white-water rafting on his brother's stag party in Prague.
"There was a chance that I'd never come back and it could have been career threatening," Rowe said.
"It's been really tough to say the least and I've still got a lot of work to do. I'm still not at 100% and I'm probably quite a way off it.
"There's a long run ahead and I've got to get fitter and stronger and still build up some strength in my right leg because it's substantially weaker than my left.
"But all things said and done it's kind of miraculous how quick it's taken.
"To be back racing at the end of February, I never thought in my wildest dreams it'd be possible."
'My foot was just dead'
Rowe suffered 25 different fractures to his right leg after jumping into a shallow section of water while rafting in August.
He had a metal rod inserted into his leg during surgery and doctors initially advised him that he was facing a lengthy absence out of the sport.
"When I first got told by the surgeon there is a chance that you might not ride your bike again, I thought 'Nah, I'm not having that. I will come back'," said Rowe.
"But then when they took the cast off, which was after about three weeks, that was the moment where I thought the surgeon might have been right.
"They asked me to lift my leg up out of the cast and I just couldn't move it at all, it was just completely dead.
"They touched the leg and touched the foot and it was just dead, I couldn't move it. There were no sensations at all, I couldn't feel them touching it.
"That point was probably the scariest moment because my leg was literally motionless. It was super scary.
"Since that moment, everything started picking up and going in the right direction and there's been no setbacks since."
Tour De France is 'achievable'
The Welshman was 98th in the official classifications after the 189km first stage in Abu Dhabi, a race in which he admits there is "not great expectations" on him after his long lay-off.
"It was quite a straight forward day, pretty much pan flat so in terms of picking a day to come back I think I picked a pretty good one," he said.
"It has been quite hard but mentally to be back in the peloton was just so nice, even getting on the flight out here, getting to the race, putting your numbers on and being back in the peloton was a nice feeling.
"Bumping in to a lot of riders that I haven't seen for six months now, it's just been nice catching up with them and the staff and good to be back in the mix."
Rowe accepts he's unlikely to race in some of his favoured events in the next few months, but plans to compete in the Tour De France in July.
"First of all is this race, I just need to get through it and contribute where I can," said Rowe.
"There's a lot of questions marks about how good or bad I am physically and by the end of this week, I'll know a lot of the answers.
"I've got some tough stages coming up and I'll know a lot more about how I am and how much work needs to be done.
"That'll determine the race programme and see where I go from now but certainly the cobbled classics is where I've got a few results in the past.
"There are races I'm passionate about; Tour of Flanders, Paris-Roubaix are the big two and it'd be a dream to be on the start line there but it's a massive ask. I might be getting a bit big for my boots.
"After that the Tour De France, why not? That's definitely achievable."