Track Cycling World Championships: Stewart misses out on Sprint last 16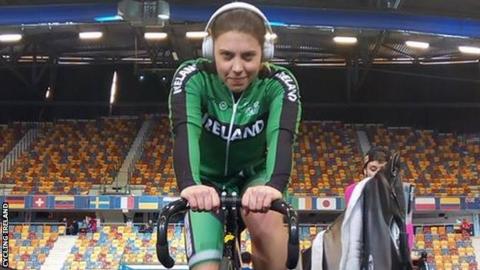 Robyn Stewart has finished in 24th place in the Women's Sprint at the Track Cycling World Championships.
The Northern Irishwoman clocked a time of 11.360 seconds in the qualifying session to reach the match sprints.
Stewart, who is the first Irish female cyclist to qualify for the Sprint event, was then beaten by Olena Starikova for a place in the last 16.
Starikova of Ukraine won their 200m dash by 0.135 seconds at the Apeldoorn velodrome in the Netherlands.
"Overall I was happy with my flying 200m," said Stewart.
"I was pleasantly surprised with where I sat in relation to the other girls, and I was within hundredths of seconds of being quite a few places higher."
The Belfast rider will also be competing in the sprint event at the Gold Coast Commonwealth Games in April.
"I'm a bit disappointed with my performance in the match sprint," added Stewart, who is a former British National League hockey player.
"I didn't get enough height and speed to really use my strength so it wasn't my best race.
"I have a lot of take homes from it - but it certainly has given me fire in my belly for next year. This is where I'd like to shine next year."
Potts finishes one lap behind
Stewart's team-mate, Marc Potts had to settle for 13th place in the Men's Scratch race during the evening session.
Potts, 26, was in a large group that finished one lap down on the winner of the 60-lap race, Yauheni Karaliok of Belarus.
Karaliok was part of a decisive three-man break away group mid-way through the race and he took gold ahead of Michele Scartezzini of Italy with Australia's Callum Scotson in third.