Laura Kenny: Four-time Olympic champion and new mum aiming for more gold at Tokyo 2020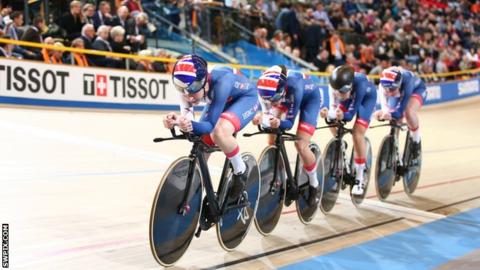 Her priorities may have changed since becoming a mother but four-time Olympic champion Laura Kenny says gold at Tokyo 2020 is "100% the target".
Kenny won world team pursuit silver on her comeback in March, six months after giving birth to her son Albie.
But the 26-year-old has set her sights on being back to golden ways in time for August's European Championships.
"I want to win more gold medals, it's definitely within my reach," the 10-time European champion told BBC Sport.
"Tokyo is 100% the target. If anything, I'm more relaxed about the whole thing.
"I feel like I've taken a step back because Albie comes first. It's not that it [cycling] isn't important to me, because it is, but I'm just going to enjoy it.
"August is when I want to be back at, or as close as possible to, my best. To get to Olympic level takes a lot of work, but I want to be as near as I can."
Kenny currently trains for 12-13 hours a week, "nowhere near" the volume she was doing prior to the Rio Olympics.
Much of that is done in a garage-turned-gym at the home she shares with six-time Olympic gold medallist husband Jason, who secretly retired after Rio but reversed his decision after taking a break from the sport.
But unlike her husband, Kenny admits quitting has "never crossed my mind", saying she has new motivation in the form of her little boy.
"Over Christmas 2016, when no-one knew I was pregnant other than our parents, I woke up one night with a fear I couldn't do it, but that's the only time it's ever happened," said Kenny, who was promoting a project aimed at getting children into cycling.
"That passed after I'd spoken to Jessica Ennis-Hill. It was great to hear from someone who had done it, and proved it was possible.
"I'm cycling because I enjoy it, it doesn't feel like a job anymore. Between 2012 and 2016, that's how it felt, whereas now, I feel like I did pre-London 2012.
"I do it for a purpose now. I don't just go out and ride around on my bike anymore - it's time away from Albie so if I'm going to do it, I'm going to do it properly."