Giro d'Italia: Chris Froome's Grand Tour hat-trick and the questions that linger
Last updated on .From the section Cycling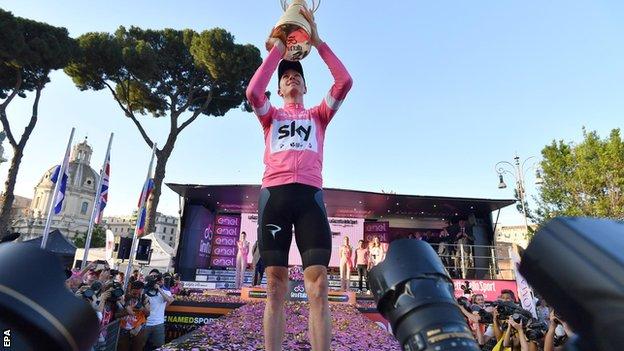 "What will really go down in history is the way that this race was won," said Team Sky boss David Brailsford after Chris Froome's historic win at the Giro d'Italia.
Brailsford said on Sunday that the virtuoso breakaway on stage 19 was the defining moment in a Froome victory that made him only the third man to hold all three of cycling's Grand Tours simultaneously.
Others think it is still to come.
"It was one stage where he took the race by the scruff of the neck and did this epic ride," said Brailsford.
"On 99.9% of times it wouldn't have worked, but it came off. That is what everyone is going to remember this race for."
Or will they?
A win that changes everything - and nothing
The 33-year-old Briton became only the seventh man in history to complete a full house of Grand Tour victories as he wrapped up his maiden Giro victory on Sunday, a win to sit alongside his 2017 Vuelta a Espana and Tour de France successes.
But that holy trinity of prizes could be broken up.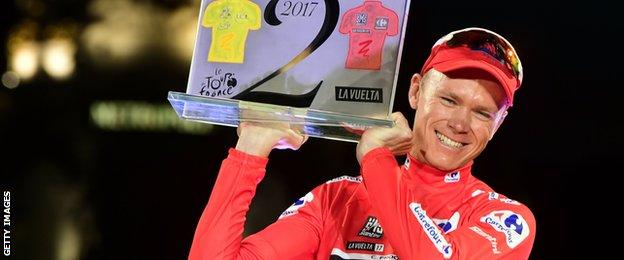 The test in September that showed double the permitted concentration of the asthma medication salbutamol in Froome's system could yet see him stripped of his Vuelta crown.
The Giro's organisers believe that he will remain their 2018 champion regardless, but no-one is entirely sure.
For now, Froome protests his innocence and the investigation into his case continues.
"If you try and strip that out that context, it was a deeply impressive comeback win," said Michael Hutchinson, writer, journalist and 5 live BeSpoke podcast pundit.
"But in truth it is difficult to consider this race without all that surrounds it.
"His stage win on Friday felt like a throwback to the heroic era of Jacques Anquetil, Fausto Coppi, Eddy Merckx. It was bike racing the way that people like to remember.
"But the way that people view the sport has changed. There is so much cynicism about bike racing in general.
"That straightforward heroism is much harder for people to accept, given the sport's recent history.
"In some ways we have had a Schrodinger's Giro d'Italia - a race that Chris Froome is both winning and not winning.
"An enormous amount depends on the salbutamol case. Whether his win is good or bad for cycling as a whole largely comes down to its outcome."
Grand Tour victories

Eddy Merckx

11

Bernard Hinault

10

Jacques Anquetil

8

Fausto Coppi

7

Miguel Indurain

7

Alberto Contador

7

Chris Froome

6
Whether the win has done anything for Froome's public image is another matter.
Jeremy Whittle, the Times cycling correspondent and fellow Bespoke pundit, is not convinced.
"It was a spectacular achievement, but whatever he says, Team Sky say, whatever anyone says, people have made their minds up," he said.
"They have already made their minds up about whether he is a big cheat or a fantastic champion.
"Long-standing fans are so polarised now, for everything he has done in the Giro, we are still in the same position that we were at the start."
Next stop, Le Tour?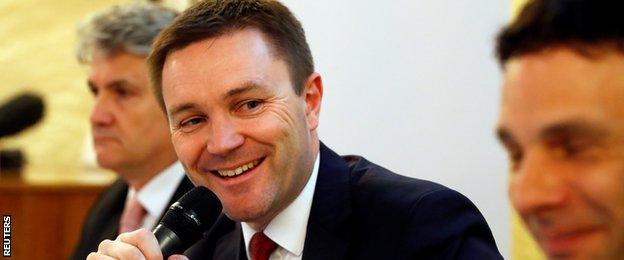 UCI president David Lappartient is keen for a verdict to be handed down before the start of the Tour de France in July, but admitted earlier this week that that deadline might not be met.
In the absence of any judgement, Froome is free to race in the Tour.
He may not.
Tour de France organisers - a separate entity to cycling's world governing body - could exclude him. Froome himself might opt to swerve a potentially hostile reception or minimise a possible ban by voluntarily skipping the event.
But the lure of becoming the first man in 20 years - since Marco Pantani in 1998 - to win the Giro and the Tour de France in the same year is considerable.
"That is the multi-million euro question," says Whittle of Froome's potential involvement. "I would guess he would be there.
"He is incredibly resilient to all of the white noise around him. It is remarkable how - as perhaps the most divisive athlete in sport - he does that."