How Chris Froome won Giro d'Italia thanks to 'spectacular' stage 19 victory

By Tom Fordyce
Chief sports writer
Last updated on .From the section Cycling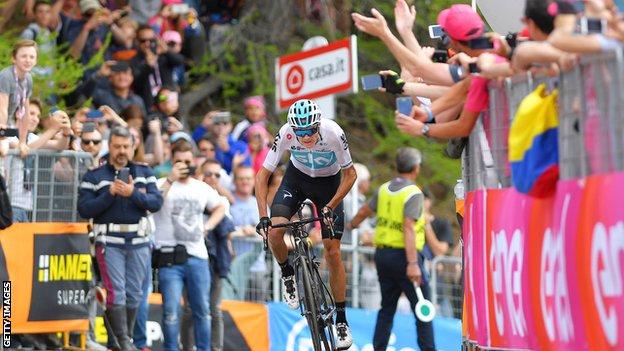 It was one of the most dramatic days of sport in recent memory: Chris Froome, after three weeks of injury, uncertain form and struggle, staged a spectacular 80km solo break on stage 19 of the Giro d'Italia to overturn a three-minute deficit and snatch an overall lead that he would never relinquish.
It astonished cycling. It drew in people who would otherwise never care about a bike race, had strangers gathered round each other's phones to watch the drama unfold, triggered admiration in many and cynicism in others.
Much has been talked about it in the days since. Now, for the first time, the two men behind the audacious plan and its execution, Team Sky principal Sir Dave Brailsford and Froome's coach Tim Kerrison, take us inside this great sporting escape.
It may change your mind about what happened. It may not. You are free to draw your own conclusions. But read what Brailsford and Kerrison have to say - about the plotting, the planning, the drama and those doubts, too.
In an extraordinary race, it is perhaps the most extraordinary story of all.
A seed is sown
With three stages of the Giro to go, Froome - who has battled crashes, a badly injured knee and saddle sores - is back in fourth place in the general classification, three minutes and 22 seconds down on leader and fellow Briton Simon Yates, who has ridden brilliantly for the first 18 stages, and 2.54 down on 2017 champion Tom Dumoulin.
Friday, 25 May would bring the toughest stage of the entire three weeks: 184km, four big climbs, including the fearsome Colle delle Finestre, the highest point of the race.
Dave Brailsford: "Thursday's stage had a draggy finish. Dumoulin attacks. Yates is straight on his wheel like lightning. Dumoulin slows down. Chris comes back up to him. Dumoulin goes again, and Yates can't respond.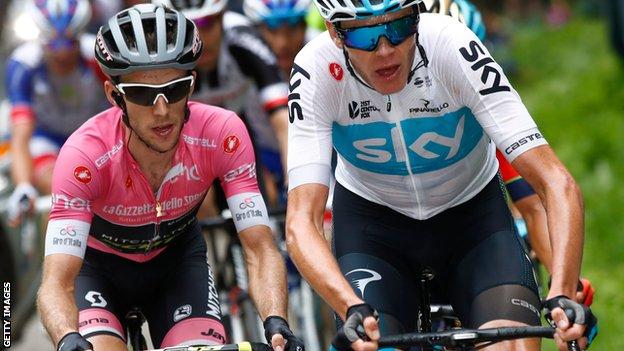 "And that was the moment. The first indication that Simon was really struggling. Is this a blip, or is this a trend? Chris counter-attacked. And that was all it took. This is game on."
Tim Kerrison: "We had reconnoitred the Finestre by mistake. We were in Sestriere in June last year to have a look at some of that year's Tour de France stages, and we had an extra day. At that stage we didn't know the Finestre was in this year's Giro. We didn't know Chris was going to do this year's Giro. But we thought, while we're here, let's 'recon' for a future stage that Chris or another rider might do.
"We rode the climb of the Finestre, the descent, the valley, the climb up Sestriere, everything but the final climb of what would be the Giro stage.
"It was the worst day I have ever had on a bike. And I realised that if you have a bad day on that mountain you can lose a lot of time. And not just time on the climb but on the descent and the next climb too. We all knew there was an opportunity there."
A plan comes together
On Thursday evening, on the Team Sky bus, Brailsford gathers together his lieutenants: performance manager Rod Ellingworth, in charge of the team's logistics; James Morton, team nutritionist; Nico Portal, sport director. Kerrison joins on the phone from a training camp in Tenerife.
DB: "Tim coaches the riders and gets them ready to race. He looks at the power we will need to ride at to make things happen. He gives us the 'intel' and the data.
"Nico looks at the tactics. He drives the team car. Nico is emotional, romantic, has a very close relationship with the riders. He brings a very different slant to discussions than Tim and I. We are more clinical.
"We looked at the stage. Where Finestre, this brute of a climb, was positioned was strategically interesting. It was going to take about an hour and five minutes to ride it. You realised that if all of the top guys rode as hard as they could to the summit, they would be the only ones left. No team-mates, no domestiques.
"We thought Simon was tiring. And the start of the climb has 27 hairpins. For each hairpin you decelerate into each one and have to accelerate out of it. The first four or five guys in the line are OK. When you go to 11, 12, 13, you're having to sprint out of every one. You get natural gaps. You know that if you take it on at the front, someone will pay the price at the back.
"Right. We will hit those hairpins as a team and hit them as hard as we can, within what Chris could maintain for an hour and a half. Simon will struggle then.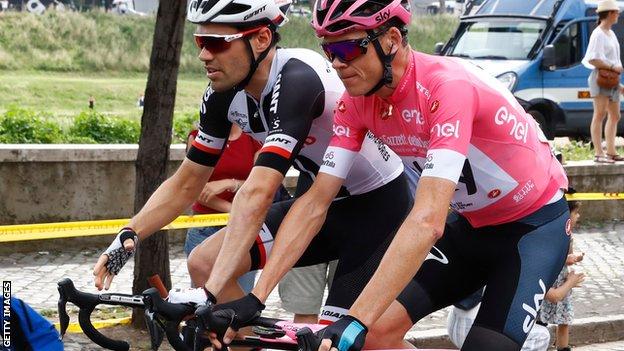 "The next part was, how do we get rid of Dumoulin? Chris was quite clear about it: 'When we get to that 8km of gravel road at the top of the Finestre, I'm going. I'm going to open up the race. And I'm pretty sure I can drop him.' That was phase two.
"I said to him, could you ride with Dumoulin? At the end of the day you might be first and second. Second is a lot better than where we are now. But it was only about the win. And you have to tip your hat to him, because we had been a long way off, and for most people, second would have been good. But he was, 'no no no. I'm not riding with him'.
"So the whole idea was to get him over the top of that first climb on his own. Knowing that there would only be a small group of the very top riders close to him, and that none of them would have helpers. It was going to be man on man.
"At that stage the discussion started to get very animated. Let's go all in. And the other riders in the team loved the idea. Quite often in sport it's hard not to consider the consequences of something. I'm risking this for what reward? And nearly always you err on the side of caution.
"But Chris was fourth. He was more than three minutes down. It was one of those great scenarios where you could say, let's throw the kitchen sink at it and see what happens. There was a real sense of, let's nail this. And then, let's get forensic on the planning. Let's give him every chance."
The numbers game
There were three big climbs in the last 100km of the stage. The Finestre - 18.5km long, 9.2% average gradient, topping out at 2,178m. A fast, technical descent, then the climb to Sestriere - 16km, but much easier, the first 7km almost flat, the remainder averaging only 5%.
Then the final climb, to the finish at Bardonecchia: 7.2km, an average of 9%, a climb where it could all be lost even if the first two parts of the plan had worked.
DB: "We recognised that to pull it off, you would have to fuel it. The body can only absorb 90 grams of carbs an hour. If you're using more than that, you're going to run out pretty fast.
"So it was mission critical that Chris had to get 90g of carbs every hour. But when you looked at where that would be in the race, you realised it wasn't always going to be practical to eat three rice cakes in an hour, or three gels. If you are riding hard up a climb or going flat out on a descent, it's not possible.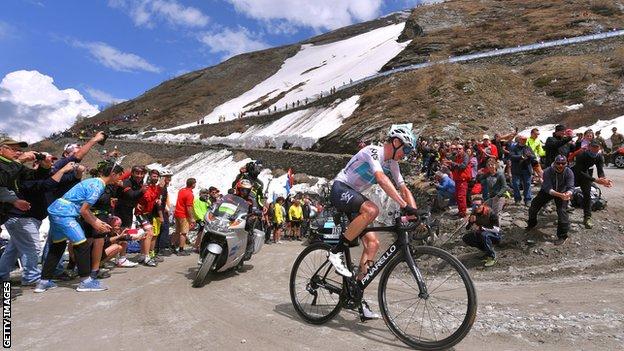 "Tim divided the stage into segments - the first 90 minutes, then the transition into the first climb, the climb itself. Then he translated all that into the wattage Chris would be producing in each section, and the carbs Chris would need to do that. And then we put that into a nutritional strategy.
"Each water bottle weighs 500g. We obsess over losing 30g from a bike. On this hour-long climb of the Finestre, which could be the decisive moment of the entire race, was it worth carrying an extra 500g up this possibly pivotal climb? But if you didn't, if he didn't hydrate, there was a very real risk he could blow.
"OK, Let's get a feed at 10-minute intervals on that climb, so Chris can carry minimal food and water.
"We told Rod the plan. Any chance? His face dropped.
"He came back. 'We can do it, but we're going to need everybody in the team - press officers, mechanics, security guy, me. That's the only way it can work.' Then we thought, some of these guys have never given a bottle to a moving rider before. So we would have to move around.
"Rod did the logistics of that. James worked out what Chris should eat, when and where. Tim did the calculations about energy expenditure and where. And then we got the riders together and said, this is what we're going to try to do."
The escape begins
The stage starts. A break goes away, including Sky riders David de la Cruz and Sergio Henao, who could have acted as support for Froome if he escaped the peloton. But Yates' team Mitchelton-Scott decide to ride hard to bring the whole race back together just before the climb, playing straight into Sky's hands.
DB: "Every now and again, over the years, you can feel it. And this just felt exciting. Chris just felt, 'I'm back, I'm going to do this.' And that rubbed off on the whole team. This was the day they were going to take it on.
Grand Tour victories

Eddy Merckx

11

Bernard Hinault

10

Jacques Anquetil

8

Fausto Coppi

7

Miguel Indurain

7

Alberto Contador

7

Chris Froome

6
"Going into the foot of that climb, you could hear the riders on the team radio. 'Guys, this is on. We're going to smash it.' You could feel it all building.
"They got into the hairpins at the bottom of the Finestre, hit the front and it was game on.
"After a short while, Yates started to lose the wheels. The riders all knew straight away. 'Phase one done!' 'On to phase two!'
"We get to the gravel section. Kenny Elissonde is at the front, our last rider. Froome is on his wheel, on the team radio shouting at him. 'Squeeze! Squeeze!' Knowing he was about to go.
"Kenny goes faster and faster. He said afterwards, 'I realised I was the last guy, I was absolutely on my knees, on the limit, and all I heard in my ear was the worst-case scenario. "Accelerate! Squeeze!"
"The others - Dumoulin, Thibaut Pinot, Domenico Pozzovivo - tried to respond and couldn't. Five seconds over the chasers. Ten seconds.
TK: "I'm in Tenerife watching it all unfold on TV. Dave's texting me. 'What do you think? What should we do?'"
The descent
Froome reaches the summit with a 38-second lead over Dumoulin and the small chase group. Yates has blown, labouring halfway down the mountain, en route to losing more than half an hour.
Dumoulin has taken the virtual overall lead. To go into the leader's pink jersey, Froome needs to find another two minutes in the remaining 60km.
DB: "We have a sport director called Matteo Tosatto. Italian, ridden more Grand Tours than I've had hot dinners. He kept saying, 'This is a fast descent. Don't hesitate. Don't take 20 seconds to recover. Don't take a jacket. And you will go fast down there.'
"Chris went over the top and was gone. He raced it. When the chase group came over, they hesitated. Thibaut Pinot wanted them to wait for his FDJ team-mate Sebastien Reichenbach. And they slowed, and that gap opened even further. And Chris' belief started to grow.
"You can put Reichenbach up against Froome any day, all day, and there's no way on earth that guy's going to live with Chris. So when he was pulling on the front, Chris was putting time into him.
"Now that did mean Tom and Thibaut could theoretically rest. But Richard Carapaz and Miguel Angel Lopez, the other riders in the chase group, were fighting for the young rider's jersey, so they just sat on. They weren't going to do any work.
"The group wasn't fluid. The descent wasn't flowing. Chris took more time."
Into the valley
Froome's lead over the chasers has stretched by another minute and 15 seconds after the descent. With the group behind still dysfunctional, with Yates experiencing the same horrors on the Finestre as Kerrison had a year before, a race that appeared done is blown wide open.
DB: "The guys do a lot of training at a sustained aerobic effort. That means going hard for a long time. They measure the effort - ride the climb but hold something back, push the descent, ride the valleys.
"And it was that that we needed - not riding as if in a breakaway, or a time-trial. Switch everything off. Just ride like a classic training effort, the thing you do almost every day. That's your best chance.
"Me? I'm watching the clock showing the time between the groups on the TV. It kept ticking. It felt like a lifetime.
"You can hear the race officials - 'Gap two more seconds.' 'Two more seconds.' Then nothing. You're waiting, wondering. Which way will it go? And it crept up. And the more it crept up, the more Chris believed."
TK: "We were very aware that the final climb would have been a 24-minute effort. We knew what Chris can sustain over that.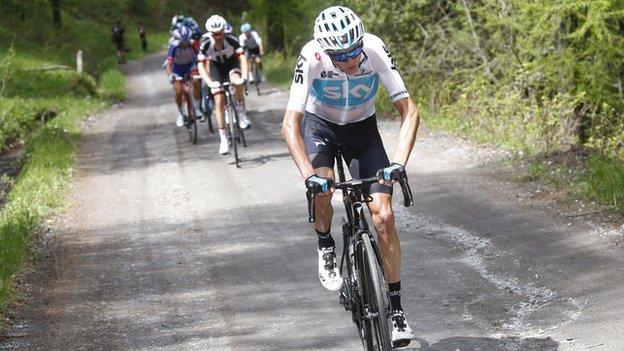 "But we needed him to hold his effort over two hours, so that final climb might take 26 minutes. That could have opened the door to Dumoulin. But Tom was doing more work in the chase group, and he was tiring."
DB: "I'm out of the game at this point. I leave it to Nico in the team car. Nico has won four Tour de France titles with Chris. There's trust there.
"Nico feels the slight inclines, the descents, when to push, when to back off. Chris is the one who has to go out and execute all this. All we try to do is support.
"When Chris does a big performance, he visualises, and he plans, and he thinks about it. He builds himself up emotionally. And on the day, he can go so deep, he can suffer so much, that it's quite something."
Froome takes another 25 seconds on the descent off Sestriere, 15 more through the final valley. On the climb to Bardonecchia, Dumoulin now struggling to stay with Carapaz and Lopez, Pozzovivo cracked, Yates way back, Froome takes three more.
In 80km he has gone from fourth overall, more than three minutes back, into the outright lead by 40 seconds.
It is an advantage he will not relinquish, a turnaround that creates astonishment in Italy and far beyond.
The questions begin
An extraordinary day is too extraordinary for some to accept. George Bennett, the New Zealander riding for LottoNL-Jumbo, compares it to Floyd Landis' astonishing comeback at Morzine in the 2006 Tour de France, a ride which would shortly afterwards see the American test positive for testosterone.
Social media amplifies the doubt and spreads conspiracy even as others at the race hail Froome's ride as worthy of comparison with the great solo rides of Italian legend Fausto Coppi. Five-time Tour de France winner Eddy Merckx sings the Briton's praises. Bernard Hinault, also a five-time winner of the Tour, does not. And Sky?
DB: "The way the whole stage panned out, it was spectacular. But ultimately it's very rare in cycling where you get the four or five leaders in a race just thrashing it out, no support, man against man. Particularly that far out from the end.
"And so it was bound to raise some eyebrows, and people are bound to ask questions. But that's only fair, because people are… 'That was spectacular, I want to believe in it, but can I believe in it?'
"That's why it's our job to sit here and explain why people should believe it, and be more open and transparent about it than potentially we've been criticised for not being in the past.
"When you sit down and assess it - and we've got the ability to look at the power Chris produced - it wasn't out of the norm for what he can do.
"It is challenging for some people. It would be nice if we could just get in touch with some people and invite them and say, just come and have a look at what we do. Come and talk to us, come and see us.
"Come and be the judge for yourself. And then you'll see for yourselves that we do everything we can to try to make sure that everything is 100% clean."
The questions remain
Sky have gone through two years in which their reputation has been repeatedly questioned - after the revelation that Sir Bradley Wiggins had been given a therapeutic use exemption for an injection of a corticosteroid before the Tour de France in 2011 and 2012 and the Giro of 2013. In addition, a 14-month investigation from UK Anti-Doping was unable to establish what was in the mystery package delivered for Wiggins at the Criterium du Dauphine in 2011.
Froome is currently involved in an ongoing anti-doping case after giving an adverse result for legal asthma drug salbutamol at last year's Vuelta a Espana. Then there is the report released by the Digital, Culture, Media and Sport select committee which concluded Wiggins and Sky "crossed an ethical line" by using drugs allowed under anti-doping rules to enhance performance instead of just for medical need.
Isn't that lack of belief and trust at least partly the fault of Brailsford and his team?
DB: "The DCMS report is what it is. You can use opinion without any evidence or facts. One of the MPs on the committee said themselves, they took people's quotes and what people said to them, but they wouldn't 100% guarantee the veracity of what was said. I've got my strong opinions about that report, if I'm honest about it.
"In life you have to give people a chance. And I guess people would say, OK, we've had a chance already.
"But I would absolutely say to anyone who's got any doubts about what we do and how we do it, I just wouldn't be doing it. We just wouldn't be involved.
"We could cheat to win, if you like, but where's the fun in that? There's just no point in doing that whatsoever.
"One of the criticisms we face is this issue around transparency. We try to be transparent, but obviously some people want us to be more transparent than we are, which is fair enough. And I guess there are some lessons to be learned in that.
"If you start a business from nothing, from scratch, and go from there to try to take on the world pretty quick, which is essentially what we did, and try to improve rapidly, then along the way it's inevitable that you're going to look back and think, 'We should have improved there, I wish I hadn't made that decision, that would have been better if we'd done it in a better way, for sure that wasn't helpful.'
"But you have to go back to intent, and the intention behind what we were trying to do. And what we set out to do was create a team that could be a home for young British riders, where absolutely they would never be asked or pushed into any kind of doping or cheating or anything else.
"That's the fundamental philosophy of the team in the first place, and I still believe massively in that, I really do.
"We do try to look for opportunities to compete and we're not going to shy away from that. The whole point is to get people to optimal performances. It's not about performing at a good level. We want to be the best in the world.
"We want to push people and to reach new heights all the time and do new things all the time. I don't think there's any denying that. But fundamentally we want to do it absolutely by the right ways. By being clean. There's just no point in doing it otherwise."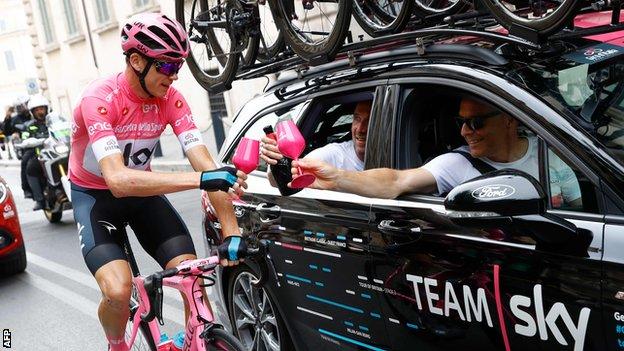 The aftermath
Froome's win made history. He has become only the third man in history after Merckx and Hinault to win all three of cycling's Grand Tours in succession.
He is still awaiting the conclusion of his salbutamol case, although he insists he will be cleared, that neither the Vuelta or Giro wins will be taken away from him.
Around him, there are the believers and there are the cynics. For Brailsford, it is about both belief and pleasure. In a complicated world, he sees a simplicity at the heart of it.
DB: "That Friday was right up there with one of the most fun days that's we've experienced over the last 20 years.
"He was so far out, and it lasted so long, and it was one of those will he, won't he moments. 'Is it going to happen? God, it could it happen, it could happen… oh my Lord, it has happened.'
"Emotionally it was brilliant. The way that Chris rode, the courage he showed. That was pure… everything you loved about the sport as a youngster, everything to do about racing and the individual. It was just brilliant to watch."