Beth Shriever: British BMX rider on the 'stress' of funding her Olympic dream
By Nick Hope
BBC Olympic sports reporter
Last updated on .From the section Cycling
BMX World Championships
Venue:
Baku, Azerbaijan
Date:
9-10 June
Coverage:
Saturday, 9 June - 17:30-20:40 BST, BBC Red Button, BBC Sport website, BBC Sport app and Connected TV
"At times it's been stressful, wondering where the money is going to come from, but the results are making it all worthwhile."
Beth Shriever will compete in her first World Championships as a senior this weekend.
At 19, and following the retirements of former world champions Shanaze Reade and Liam Phillips, she is regarded as the standard bearer of British BMX riding.
But unlike Reade and Phillips, she receives no funding. And last year - just months after winning the world junior title - she left the British set-up.
The teenager admits going it alone, and taking a job as a teaching assistant, was "a risk".
But she feels her maiden World Cup victory last month went some way to vindicating her decision.
As she prepares to race in Baku, Azerbaijan, Shriever tells BBC Sport about the "shock" of losing funding, wanting to be a role model, and her Olympic dream.
'It was so out of the blue'
Reade retired as a three-time world champion - having won the event in 2007, 2008 and 2010 - while Phillips took the title in 2013.
That means Britain have won as many World Championships as the USA in the past 11 years.
Despite that, no British rider has won an Olympic BMX medal. Phillips and Kyle Evans competed at Rio 2016 but no British women qualified.
As a result, UK Sport stipulated in its post-Olympic funding review that only male riders could be supported heading towards Tokyo 2020.
"It was such a shock and just so out of the blue," says Shriever, whose parents were on the cusp of leaving their family base in Essex and relocating to Manchester to support their daughter.
"We were like, 'what do we do and how can we make it work?' When I was younger British Cycling took me everywhere and paid for everything so it was a worry."
British Cycling was able to create a support package, funded through commercial income, for the female BMX riders.
But Shriever and her coach Mark Seaman decided their destiny was best served by creating their own programme based in Braintree, close to the rider's home in, Finchingfield, Essex.
That, though, has not been without its difficulties.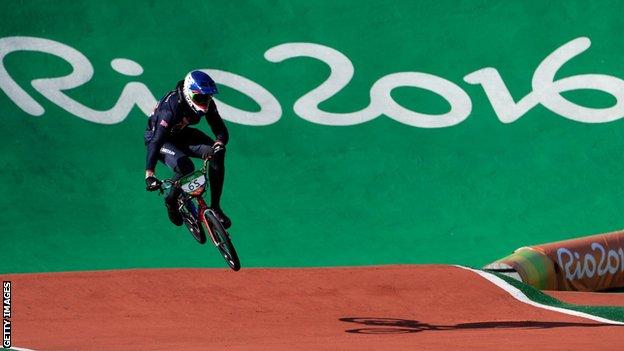 Teaching en route to Tokyo
The cost of entering an event in Europe - including travel - is upwards of £2,000, with competitions further afield often costing more than double that figure.
"I have a bike sponsor and a most of my kit is sponsored but it's finding money for the travel and races that's difficult and it's been a little bit stressful," says Shriever, who admits to reluctantly leaning on the "bank of mum and dad" at times.
"I've also started part-time as a teaching assistant for two- and three-year-olds. The school, which is also where my mum works, are absolutely great about giving me time off to compete. They've been massively supportive and I love it.
"It's also taught me a lot about talking to younger generations and I want to be a role model, particularly for the young girls so they can see what's achievable in sport."
The importance of the 'personal touch'
In last year's annual review, UK Sport removed the clause in the funding award to British Cycling, which stated female riders could not be invested in.
As such, British Cycling is able to support Shriever when she competes for Great Britain this week, but it is the rider's decision to remain independent from the national governing body for the World Cup circuit.
Seaman, who is self-employed and travels around the country delivering masterclasses to earn his income, feels greater investment would give them more options.
"There's more depth of quality female riders in Europe so if we could get out to race, train more and use their SuperCross tracks, that would help," says Seaman,
"It's been tricky for me, and obviously I have to do a lot of other work to try and cover the weeks away, but the effort that Beth's put in has made it more than worthwhile."
He admits the transition from British Cycling has been "pretty tough" at times for Shriever, but believes the results are proving a personalised approach works.
"I think sometimes we forget athletes need something outside of training, and the biggest secret with Beth is just to make sure she's happy and getting the quality of life a normal 19-year-old should get," he tells BBC Sport.
"She's gone from education and training with British Cycling, to training here, trying to have a reasonable social life and working as well which was very hard at first, but I'm proud of how she's dealt with it."
Shriever says she would like there to be "less stress" around finance, but is also enjoying the tailor-made approach to her programme.
"[UK Sport's involvement] would add that little bit of pressure to get results, and without that pressure I'm just enjoying myself and getting the results," she says.
"I still have a great relationship with British Cycling and we're constantly communicating, but the programme I have is so exclusive and I have this amazing balance of working, training and seeing my friends."
Will Shriever be GB's next world champion?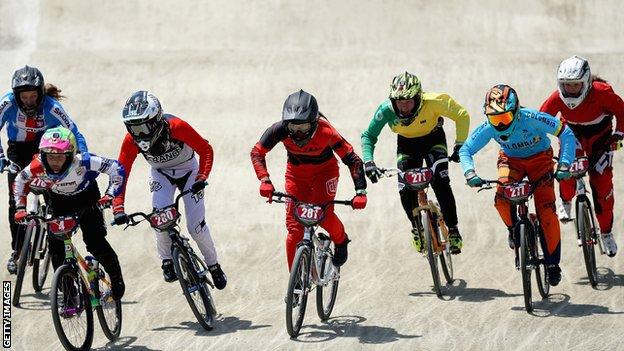 Baku 2018 is Shriever's first World Championships in the senior ranks, and she is unsurprisingly trying to play down talk of following Reade and Phillips by winning a medal.
But, after a maiden World Cup success in Zolder, Belgium, last month, she is aware other riders will be watching her more intensely.
"That second day in Zolder, I could tell people were a bit more wary," she says.
"Obviously all the girls are so supportive and say 'well done' but once you're on that gate all that goes out of the window, so it does add a bit more pressure to me.
Has success, in her first senior year, shocked her?
"Definitely," she replies.
"At the start of the season our goals were a few semi-finals and a final so to come away with a win has exceeded that and proves to me and everyone else that I can do it.
"To make a semi-final at my first elite Worlds would mean everything, but then it's BMX so anything can happen and you have to keep an open mind with every race.
"Long-term I want to win multiple titles and an Olympic gold, so that's definitely the aim one day and hopefully I'll be on the gate in Tokyo."