2018 Women's Tour: Manon Lloyd rides 126km with fractured hip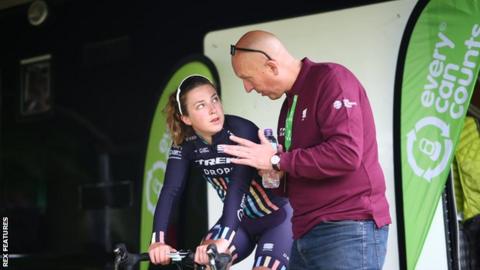 Welsh cyclist Manon Lloyd rode 126km with a fractured hip after crashing in the 2018 OVO Energy Women's Tour.
The Trek-Drops rider came off her bike 25km into the 151km third stage from Atherstone to Leamington Spa.
Lloyd, 21, completed the rest of the stage before being diagnosed with a fractured hip and was forced to abandon the race.
"It was not really the end I was expecting," said Lloyd.
"I crashed on the longest stage, about 25km in, so I rode for the rest of the stage after the crash.
"I really don't know how I managed that. I was just so determined to get back on the bike and do my job for the team.
"It was a struggle to get to the finish and at one point I didn't think I was going to make it but I made it in the end.
"I tried to start the next day but was in so much pain I could not start and later found out I had fractured my hip."
Lloyd has suffered similar pelvis injuries, with the damage this time occurring in the hip joint socket.
Pain and disappointment
"When they told me I was kind of expecting that news because of the pain I was in," said Lloyd.
"I have fractured my pelvis twice before so I know what I am dealing with and what I can and can't do and how to look after it."
Lloyd won double gold at the Track World Cup event in Glasgow in November 2016 and represented Wales at the 2018 Commonwealth Games on Australia's Gold Coast.
She will now be out for at least the next six weeks and will miss the National Road Race Championships and probably the European Championships on the track in Glasgow on 2-7 August.
"I was upset and disappointed because I am going to have to miss quite a few races in the next few weeks," Lloyd added.
"I was having a good road season which was going a lot better than I expected and looking forward to seeing what we could do at the Nationals."