Chris Froome expects 'confrontation' at Tour de France despite end of anti-doping case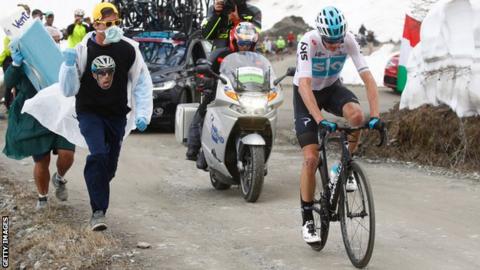 Chris Froome says he is expecting "confrontation out on the road" at this year's Tour de France, despite his anti-doping case being dropped.
The four-time Tour winner, 33, was under investigation after more than the allowed level of legal asthma drug salbutamol was found in his urine.
Cycling's world governing body, the UCI, closed proceedings on Monday.
"We've raced under trying circumstances at the Tour for the last six years," Team Sky leader Froome told BBC Sport.
"There is always some kind of confrontation out on the road but it's always a minority and it's just something you have to deal with."
Froome said he had urine thrown at him during the 2015 Tour, and he was booed by fans when passing through rival Romain Bardet's home region last year.
A spectator carrying a giant inhaler ran alongside the Briton during the remarkable stage-19 victory that set up his Giro d'Italia win in May.
Asked what he would say if someone did the same at this year's Tour, Froome replied: "Go jump."
Tour organiser ASO had said Froome taking part could "damage" the race, but now says the UCI's decision, reached after working closely with the World Anti-Doping Agency (Wada), means there is no reason to prevent his participation when the race starts on Saturday.
Last month, five-time champion Bernard Hinault urged riders to strike in protest against Froome riding the Tour. Team Sky called the Frenchman's comments "irresponsible and ill-informed".
'I wouldn't want to tarnish cycling'
Speaking to BBC Radio 5 live's Bespoke, Froome said he felt "a huge relief" when he heard he had been cleared following a "difficult period" for his family.
He added the process had been "very challenging" because news of his adverse test was leaked in December when athletes usually respond to such cases in private.
"Information that wasn't correct was being circulated and I wasn't able to put my side of events across, so it's been a trying past nine months," he said.
"I take my leadership position within the sport seriously and I wouldn't want to tarnish it so this is a huge victory to have this behind me.
"I can go into the next month of racing without any question marks over my head."
Froome is looking to join Eddy Merckx, Miguel Indurain, Jacques Anquetil and Hinault as a record five-time Tour winner.
He is also seeking a fourth Grand Tour win in a row - following successes at the Tour and Vuelta in 2017, and this year's Giro - which would equal the record set by Merckx in 1972-73.
"This is the biggest challenge I've faced to date and I can't wait to get stuck into the racing side of things again," he said.
'I knew I hadn't broken the rules'
Froome's adverse result followed a test on 7 September, 2017 during his Vuelta win, which initially showed double the 1,000-nanogram per millilitre threshold of salbutamol was in his system.
When corrected to account for dehydration, using an adjustment calculation Wada made effective from 1 March for ongoing cases, Team Sky said this level came down to 19% over the 'decision limit' of 1,200 ng/ml, which accounts for any measurement error.
Froome said he had "always known" he had not broken any rules because he "never took more than the maximum permissible amount" of 1600 micrograms over 24 hours, or 800 mcg over 12 hours - roughly equating to 16 or eight puffs of an inhaler.
Wada said the Briton increased his dose prior to the test - as Team Sky claim his doctor advised him to - yet Froome said he still "didn't actually take anywhere close to the maximum amount".
Wada regulations allow athletes to take part in a pharmacokinetic study - a controlled test of how a drug works its way through the body - to help try to show how they exceeded the permitted level of a drug without taking more than the allowed dose.
Yet Froome was not required to take this step, with Wada stating it would not have been possible to "adequately recreate the unique circumstances" of the original test.
"The authorities looked at all the data they had already - I'm being tested almost every single day I'm racing - and the experts came to the decision that my results from the Vuelta were consistent with other variations of the results given to that point," said Froome.