UCI head David Lappartient continues disagreement with Team Sky's Dave Brailsford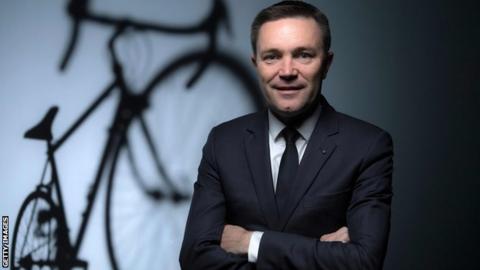 UCI president David Lappartient says Team Sky boss Sir Dave Brailsford "does not understand much about cycling" as their public disagreement continues.
Lappartient told BBC Sport last week Team Sky's wealth helped them fight Chris Froome's asthma drug case.
Brailsford said world cycling's head was showing a "French mayor mentality".
On Tuesday, Lappartient said: "When you are arrogant, one day or another, there is always something that brings you back to humility."
Lappartient is the mayor of French town Sarzeau, where stage four of this year's Tour de France finished on Tuesday.
The 45-year-old defeated Brian Cookson in last year's election to head up the UCI.
In responding to Brailsford's comments, Lappartient told La Parisien: "I will say that the last one who called me a 'Breton mayor' was not brought any luck. It was Brian Cookson.
"And then, by insulting me as mayor, he insults the 35,000 French mayors and the French in general. I do not know what he's looking for with that.
"Because he does not realise that it takes mayors taking stages of the Tour de France for such great events to take place. He does not understand much about cycling."
Brailsford told reporters Lappartient had "some work to do" when it comes to learning "what a president of an international federation's responsibilities are".
Four-time Tour de France winner Froome's case was dropped by the UCI on the advice of the World Anti-Doping Agency (Wada) on 2 July.
The nine-month case had studied evidence on Froome having more than the allowed level of legal asthma drug salbutamol in his urine during his Vuelta a Espana victory in September.
Lappartient said Froome "had more financial support to find good experts to explain the situation".
Brailsford has said it is up to the UCI and Wada to publish the details of Froome's case but feels Lappartient has contradicted himself on whether that will happen.
"One minute it's 'we can release stuff', the next minute it's 'we can't'," Brailsford said on Sunday.