Tour de France 2018: Team Sky boss Sir Dave Brailsford sorry for 'French cultural thing' comment
Last updated on .From the section Cycling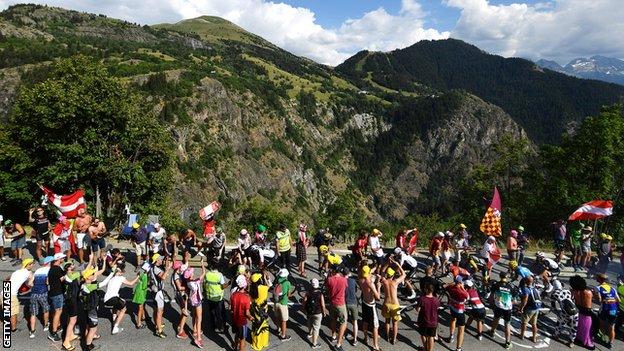 Team Sky boss Sir Dave Brailsford has apologised for saying the hostile reception they have faced at the Tour de France is a "French cultural thing".
Team Sky riders have been booed and spat at during this year's race, while Froome was pushed by a spectator on Alpe d'Huez.
"I'm a Francophile," he said.
"I think anybody who knows me knows that wasn't my intention but I was pretty agitated about the attention we were getting.
"Of course I don't believe that spitting is a French cultural thing, but my point was that we only get that kind of thing at the Tour de France."
The British outfit have detractors, stemming from their recent dominance of the sport and because of a recent anti-doping investigation into Froome, which was dropped in early July.
On Wednesday Brailsford reiterated his concerns over security, a day when Geraint Thomas extended his lead in the Tour.
"My intention was never to criticise, just to draw some attention to the fact that I was getting pretty worried about our guys," Brailsford added.
"The issue is security and I was trying to bring that to everybody's attention. I feel very strongly about the security of this team. I chose to bring young Egan (Bernal) here and then half way through I thought I might really regret that decision - and that was nothing to do with racing his bike, or performance, it was just about the experience he was having."
On Sunday, Team Sky's Gianni Moscon was disqualified from the race for hitting another rider.
UCI president David Lappartient, a Frenchman with whom Brailsford has already had a number of run-ins, criticised the Sky boss for "fueling the fire."