Private jets & calls from Arsene Wenger - how life changed for Thomas with Tour triumph
By Dafydd Pritchard
BBC Sport Wales
Last updated on .From the section Cycling
Geraint Thomas is not used to the lavish splendour of the Dorchester hotel.
But sat back comfortably in his armchair in a regal suite overlooking Hyde Park, you wouldn't know this is a whole new world for the 32-year-old from Cardiff.
Even as a cyclist of global renown with two Olympic gold medals to his name, winning the Tour de France has been life-changing.
"It's like riding the crest of a wave because all this is not normal, all the interviews and staying in nice hotels," he tells BBC Sport.
"We got a private jet from Paris to London yesterday with Sky so it's crazy at the moment.
"It's been insane. I'm a big Arsenal fan and I spoke to Arsene Wenger when I was on the phone at the airport. I got video messages off Dan Carter, Thierry Henry and Rob Brydon.
"All these people like Ryan Jones, Shane Williams, guys like that who I grew up as a kid just watching and they are messaging me saying they have been inspired and really enjoyed watching me.
"It's like 'wow'. I'm still a fan of them so to receive those texts is nice."
'Brits love an underdog don't they?'
Thomas wears a slightly glazed expression at times, as if still struggling to comprehend the scale of his achievement a few days after the event.
He is exhausted, not only by the gargantuan physical effort of the Tour, but by the emotional toll of the aftermath: tears, elation, disbelief.
Despite a glittering CV which also includes World Championships and Commonwealth Games titles, there was an element of surprise to his victory in France because his career on the road has largely been spent playing a supporting role for his team-mates.
So does winning the Tour de France - the first Welshman and only the third Briton to do so - transform the life of a rider of even Thomas' standing?
"Yeah, it does, most definitely," he says, his eyes widening a little.
"On the track the expectations were higher and everybody expected us to win gold in London [at the 2012 Olympics] it was a totally different sort of pressure.
"With the tour they all thought it was about Froomey [Chris Froome]. I believed in myself and the team did and the close people around me but to the outside world it was a massive shock.
"That is probably why I have had a nice reception as well, it is just that underdog thing. Brits love an underdog don't they?"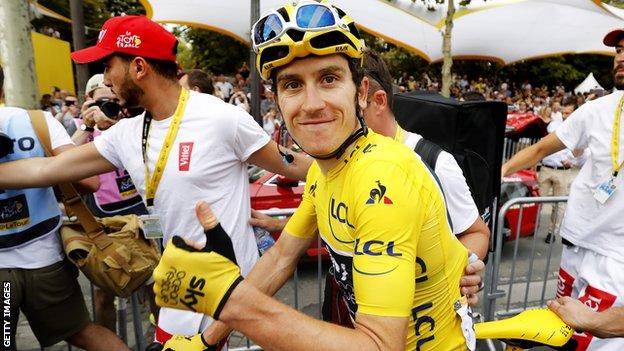 'Nice to talk about something good for a change'
Thomas is typically understated about the popularity of his win, which was a timely lift for the image of Team Sky.
From the damning report which alleged that their use of therapeutic use exemptions for Sir Bradley Wiggins "crossed an ethical line", to Chris Froome's anti-doping case which was eventually dropped by the UCI, cycling's governing body, Sky have been under intense scrutiny of late.
Their riders were regularly booed during this year's Tour, though there was a marked change in mood when Thomas stepped on to the podium to applause in Paris.
"It's nice to talk about something good for a change and have a bit of a celebration rather than negativity which seems to follow cycling round quite a lot these days," he says.
Thomas' win was also a popular one with his fellow riders
"That is the most pleasing thing to hear when fellow competitors are congratulating you," he adds.
"One of the guys from Movistar, [Daniele] Bennati, has won Tour stages and I have always looked up to him, and he congratulated me and he had actual goosebumps down his arm and said that was for me.
"I speak to him in the peloton, he is Italian and you don't have that real connection. To get that reaction from someone like that is crazy."
'I'm open to offers'
What Thomas is yet to resolve, however, is his future with Sky.
His contract expires at the end of this year and, although he has spoken to other teams, the Welshman sounds like he might be ready to renew his deal.
"Yeah I think it's quite fortunate I didn't sign it before the Tour looking back at it," he jokes.
"I think the way the team is run works really well for me but I'm open to hearing other offers. But we'll see what happens in the coming weeks."
While Thomas weighs up his options, Sky will always have a special pull.
Along with Froome and Ian Stannard, Thomas is one of only three survivors from the original squad from Sky's debut season in 2010.
And having also worked with team principal Sir Dave Brailsford during his days as a track racer, the prospect of life without his fellow Welshman is a strange one.
"I think so because I have known Dave since I was 17. I have grown up with him and I have seen him more than my own dad since I was 17," Thomas says.
"He has been a second father figure almost and a boss. We have been through a lot. He is north Walian and we have that connection with Wales as well.
"It's hard to put into words really, how proud I am and great it is to represent Wales because in cycling it's a little known country, so it's nice to put it on the map."