Team Sky the best place for Geraint Thomas - Sir Dave Brailsford
Last updated on .From the section Cycling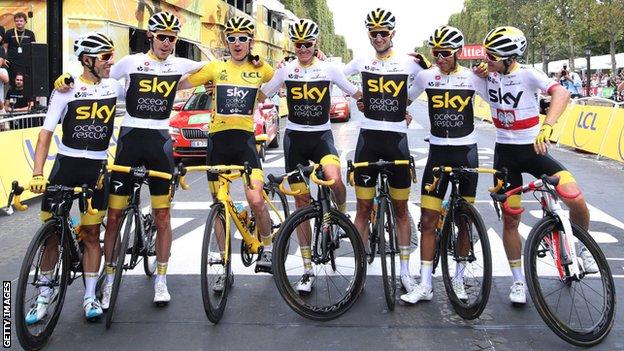 Geraint Thomas should stay with Team Sky despite interest from other cycling teams following his Tour de France win, says Team Sky boss Sir Dave Brailsford.
Thomas, 32, became the first Welshman to win the Tour de France as he rode into Paris on Sunday's final stage.
Thomas has said he has a "big decision" to make as there are "plenty of other teams" interested in recruiting him.
"I am pretty positive this is the best team for Geraint," Brailsford told BBC Radio Wales.
Brailsford says Thomas' win has elevated his status in the sport, but expressed confidence a deal can be worked out.
"It's not unusual that these guys win something big and it puts them in a different place to when they started out," he said.
"With the contract negotiations we will sit down and thrash it all out.
"We're a team that wants him, a team where he has been very successful, one where he knows the staff.
"Like anyone he is entitled to listen to other options but I'd like to think we will get it all sorted out."
If Thomas were to stay at Team Sky he would likely compete with four-time Tour de France champion Chris Froome and Colombian rider Egan Bernal, who finished third and 15th respectively this year, to be the team leader.
However, if Thomas moved on to another team, it is likely he would be the first-choice leader in 2019, but Brailsford points out that whoever he rides for, Thomas is set for competition with Froome.
"It's always been the case at Team Sky that we have individuals who can perform at the highest level," Brailsford said.
"In our sport you don't sit down and write a name on a piece of paper at this stage and say he will be the team leader next year.
"Take Geraint for example, in order to win the Tour de France he would have to beat Chris Froome and Egan Bernal.
"In our sport it has a structure where you're on a team with someone but to win you have to be better than them, whether you're in another team or in that team.
"You have to think of the environment you're in."
Although much was made of Thomas' rivalry with Froome during this year's race, the two riders insisted there was no animosity between them.
Even while Thomas was wearing the yellow jersey, many still expected Froome to be helped to victory by the rest of Team Sky ahead of the Welshman.
However, Brailsford said the team never had such discussions and the pair were allowed to battle it out as long as they were not "architects of their own downfall," by doing anything to affect the other.
"The great thing about Geraint and Chris, the amount of experience is incredible and they know how the sport works inside out," added Brailsford.
"They have been put in most situations you can imagine so they get it, and the key components when two guys are going for the same race you have to have are trust, openness and honesty.
"If you have those three things there and there is a respect between the riders it will figure itself out on the road."
Thomas has called for Wales to stage some of the Tour de France and Brailsford, a fluent Welsh speaker, agrees with his sentiment.
"The Tour de France has become more modern and starts have been in all different countries," he added.
"To have any Grand Tour start in Wales and host a few stages with Geraint at the level he is, and Luke Rowe as well, I think it would be absolutely fantastic."