Rachel Atherton: Mountain biker goes for fifth downhill World Championship title
By Katie Falkingham
BBC Sport
Last updated on .From the section Cycling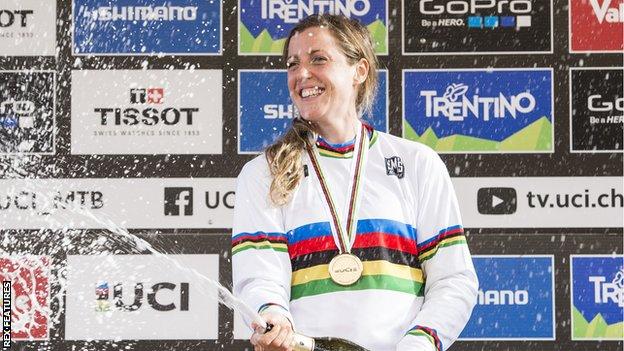 Mountain Bike World Championships
Venue:
Lenzerheide, Switzerland
Dates:
8-9 September
Coverage:
Red Button, BBC Sport website and app, connected TV and iPlayer;
Sat 8 Sep:
11:20-13:15: Women's Cross Country 14:20-16:15: Men's Cross Country;
Sun 9 Sep:
11:50-13:00: Women's Downhill 14:20-15:50: Men's Downhill
Rachel Atherton keeps her four world champion rainbow jerseys in a birdcage.
No bird has ever lived in the cage; Atherton says she "just really likes birdcages".
"I didn't want to frame my jerseys or hang them on the wall," she says. "I like to be able to take them out, touch them and remember those races."
The cage door may be opening once again this month, with the 30-year-old Briton attempting to win World Championship number five.
Victory in Lenzerheide, Switzerland, on Sunday would make her the most decorated world champion in downhill mountain bike history.
But Atherton, who won a record sixth World Cup title in August, is well aware of the perilous nature of the race that awaits her, calling it a "death-or-glory" situation.
"Most people either win or crash," she tells BBC Sport. "No-one really cares about second place."
'I'm physically sick on race day'
Atherton truly announced herself on the downhill scene in 2008, when she won her first World Championship and World Cup titles, and has dominated the sport for a decade.
But even the very best are struck down by nerves, which Atherton says have got worse as time has passed - with a particularly drastic turn in recent years.
"I'm physically sick at least a couple of times on race day," she says. "It's only the past two or three years that it has happened.
"I think it's my body's way of getting ready, I'm going into war, so it's that fight or flight mode.
"My older brother Gee - he also races and is a multiple world champion - started being physically sick and I guess I've always wanted to do what my brothers do, so now I do it as well!"
Atherton puts her nerves down to the growing pressure she puts on herself, such is her expectation of victory.
"I expect a lot from myself, and that, over the years, has become more and more," she says.
"The more injuries you get, the more you become aware of the consequences, so I think that adds up to this one big ball of pressure."
Great Britain's team for Linzerheide
Men:
Phil Atwill (age 23), Adam Brayton (29), Laurie Greenland (21), Danny Hart (26), Michael Jones (23), Matt Walker (19), Reece Wilson (22)
Women:
Rachel Atherton (30), Katy Curd (29), Tahnee Seagrave (23)
'I've always felt a bit battered'
As is to be expected given the nature of the sport, Atherton has had her fair share of injuries, including broken wrists and collarbones, and has even had to have bone grafts.
In 2009 she needed a nerve graft after a collision with a pick-up truck in California left her with a dislocated shoulder, which severed a nerve.
Atherton is the oldest rider in the field, and her list of injuries is something she says she is becoming "more aware of" as the years pass.
"I do notice the injuries now. I had some big injuries relatively young and I've carried them throughout my career, so it's nothing new," she says.
"I've always felt a bit wrecked and a bit battered. It does take slightly longer to recover, it takes slightly longer to warm up in the mornings, but that's counteracted with the experience I've got from racing for so long."
Atherton says she has learned to cope with the ever-increasing aches and pains.
"You can carry injuries forever and you have to deal with that," she adds.
"I find ways of racing and riding that mean I can still acknowledge that I am nervous. I ride perhaps a more calculated race now, and over the years that seems to have paid off."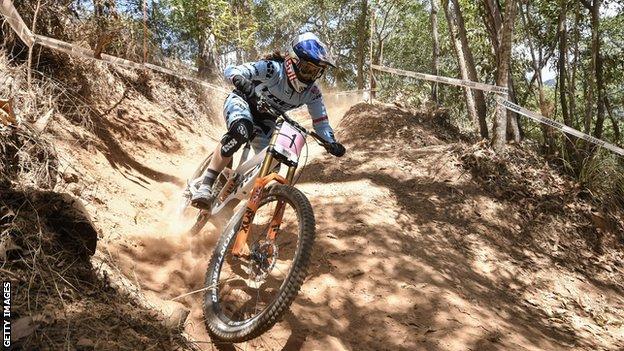 'That one race that means so much'
Atherton will go into this week's Mountain Bike World Championships, which start on Wednesday, in good form after an "emotional" World Cup final triumph in La Bresse, France, in August.
She won three rounds of this year's World Cup before winning the overall title for a sixth time - a record feat she says is "very special".
"Looking back, I didn't really know it was going to be an historic number six - no-one had ever done that before," she says.
"It's an achievement that has spanned 10 years, from when I won my first World Cup title in 2008.
"When I think about that, with all the injuries I've had in between, it's incredible really. I never set out with that goal in mind as a kid."
Attention quickly switched to the challenge ahead in Switzerland and, with downhill not part of the Olympic mountain bike programme, Atherton describes the World Championships as "our Olympic final".
"It's weird to have one race that means so much," she says. "You win the jersey and the stripes and there is this huge hype surrounding it.
"The whole year adds up to the World Cup title, and then this one race, one afternoon, is huge."