Kristina Vogel 'can't walk any more' after injuring spine during crash
Last updated on .From the section Cycling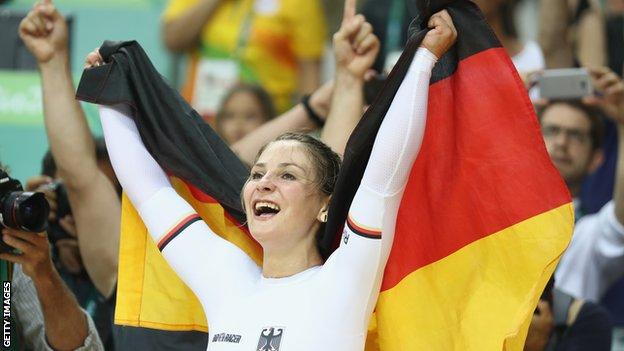 Double Olympic champion Kristina Vogel says she "can't walk any more" after sustaining a serious spinal injury when she crashed during training in June.
The 27-year-old German was involved in a high-speed collision with another cyclist on a track in Cottbus.
Vogel, who is also a part-time police officer, won team sprint gold at London 2012 and the individual title in Rio.
"I believe that the sooner you accept a new situation, the sooner you learn to deal with it," she told Der Spiegel.
The German Cycling Federation said Vogel remains in hospital in Berlin and that it would give her all its support.
"I was in pain, but there are no words," Vogel said of the accident. "On the first X-ray images my spine looks like an Ikea folding table.
"In the meantime, I really thought that I was dying. But I said to myself: 'I can not let go here now.'
She added: "No matter what fate holds for you, life goes on, in my case now on four wheels instead of two wheels. My arms are now my legs too."
Cycling's governing body, the UCI, said it would "stand by Kristina in this difficult time" and expressed its "sympathy and support in a sad situation for track cycling and the sport".
Its statement added: "This exceptional champion has also dedicated herself to our sport by working selflessly behind the scenes.
"Her determination and good humour are known and appreciated by all, and we at the UCI have no doubt that she will make full use of these remarkable qualities in her rehabilitation."
Sir Chris Hoy, Great Britain's six-time Olympic champion, said the news was "devastating".
He added: "She is already one of the greatest track sprinters in history, but there was so much more to come from her. It's absolutely heartbreaking.
"I have no doubt that in the future she will find new ways to challenge herself and to achieve greatness again and in doing so continue to inspire."
Vogel has won 11 world titles, and the crash in Cottbus was not the first of her career.
She was put into an artificial coma for two days in May 2009 after hitting a car during a training session.