Chris Froome: Wada president Sir Craig Reedie rejects case criticism
Last updated on .From the section Cycling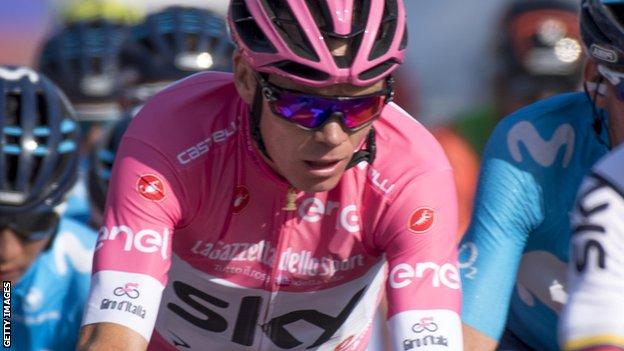 World Anti-Doping Agency president Sir Craig Reedie has rejected criticism of how Chris Froome's asthma drug case was handled and will not resign.
The Movement for Credible Cycling said Reedie should quit, calling Froome's case - dropped in July - "devastating" for the sport's credibility.
It also questioned Wada's independence, and its approach to Russia's anti-doping body and painkiller tramadol.
But Reedie said Wada was "stronger and more effective than it has ever been".
In a letter seen by BBC Sport, the 77-year-old Briton said he would see out his second term until the end of 2019, adding: "In everything we do, Wada is keeping the athletes to the fore."
British four-time Tour de France champion Froome was under investigation after more than the allowed level of legal drug salbutamol was found in his urine.
Wada accepted there was no breach and cycling's world governing body, the UCI, dropped on the case on 2 July after nine months.
The MPCC - which represents seven of the 18 World Tour teams, 23 professional continental outfits, nine continental teams, six UCI women teams and 264 riders - said that following Froome's case it "laments the way sanctions are not applied equally and procedures are not followed equally, which is devastating for the credibility of the sport".
Reedie replied: "Wada remains convinced that the UCI reached the correct and fair outcome in what was a very complex case."
He added that the MPCC had "over-simplified" the case "without having knowledge of the voluminous file of the case and both the scientific and legal challenges it raised".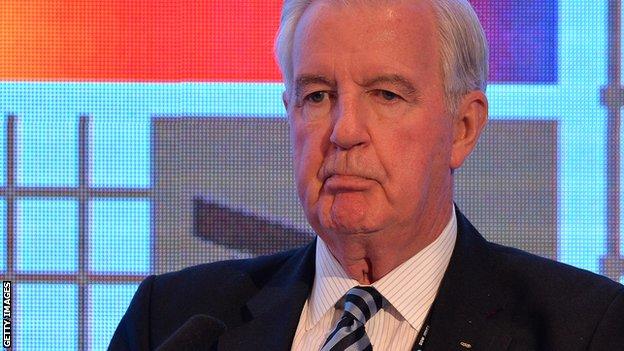 Why isn't tramadol banned?
The MPCC also asked why the painkilling drug tramadol had not been placed on Wada's banned list, despite being detected in 4.4% of samples taken in cycling last year.
It said its use in cycling was "higher than any other endurance sport" and continuing to allow its use "could endanger the health of our athletes".
But Reedie responded by saying it was "a useful therapeutic agent" and "there is not currently any consensus among Wada's prohibited list expert group - composed of experts who are independent from Wada - that tramadol meets the criteria for inclusion on the list and so it remains non-prohibited".
But he added that the group "will continue to evaluate this medication" and was "supportive of the UCI's initiative to control the use of tramadol in cycling, primarily for health reasons".
Questions over Rusada and Wada independence
In September, Wada lifted a three-year suspension of Russia's anti-doping agency (Rusada) following a major scandal over alleged state-sponsored doping.
The MPCC also said that Rusada's reinstatement was dependent on two conditions, which it said "had not been met": the acceptance of the conclusions of the McLaren Report on the reality of institutional doping, and granting access to Moscow's anti-doping laboratories.
But Reedie said: "Wada respects that everyone is entitled to voice their opinion, but we remain firmly of the view that it was the right decision for clean sport and that Wada is in a stronger position because of it.
"Wada's focus now is on finalising the process for accessing all the data from the Moscow laboratory, which is the missing piece of the puzzle, by the end of the year, allowing us to catch more cheats and exonerate clean athletes."
The Scot also said criticism of the Operation Puerto case - which revealed a doping network involving some of the world's top cyclists in 2006 - "demonstrates an astonishing lack of knowledge and understanding of what has happened to date".
And in response to questions about Wada's independence, he said he had always acted independently and there was an ongoing review which would consider new recommendations, such as more independent members on the executive committee and that "the positions of president and vice-president should also be independent".