Sir Bradley Wiggins: Why Lance Armstrong is still an icon to me
Last updated on .From the section Cycling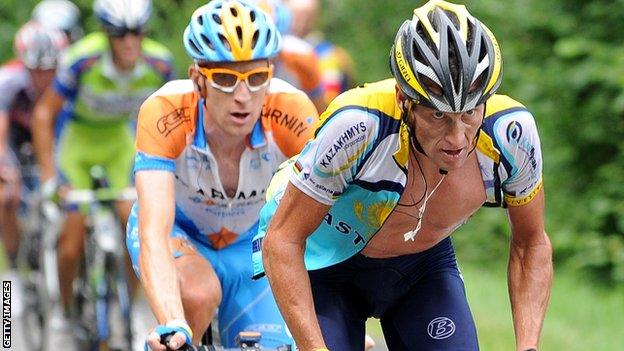 Sir Bradley Wiggins says he knows his decision to include disgraced drugs cheat Lance Armstrong in a new book celebrating his cycling influences was never going to prove popular.
The five-time Olympic gold medallist, who in 2012 became the first Briton to win the Tour de France, said: "I do have a relationship with him that I can't deny, or I can't pretend it isn't there."
The 38-year-old's new book, Icons, details 21 key figures during Wiggins' life and cycling career.
American Armstrong recovered from cancer before winning the Tour de France a record seven consecutive times from 1999 to 2005.
However, he was stripped of his titles and banned from the sport for life by the United States Anti-Doping Agency in August 2012.
Armstrong repeatedly denied doping allegations following his return from cancer until finally confessing during a television interview with Oprah Winfrey in January 2013.
The Times said the inclusion of Armstrong has "astonished the world of cycling" while the Daily Mail said Wiggins was "praising the drug cheat Armstrong".
Wiggins' says his description of Armstrong is not about "praising" a drugs cheat. He believes Armstrong's character and resilience on the bike makes him an icon in cycling, regardless of the biggest scandal to hit the sport.
"I'm not condoning for one minute what Lance did," Wiggins said at an event before his official book tour this week.
"From the angle I wrote this book at, I couldn't not include him in it.
"In terms of how I feel, I'm not asking anyone to agree with me, but you can't change the way someone made you feel.
"At the end of the day, we're all human and if someone asks me now, I'm going to tell them what I think - I haven't got an agenda, I'm not in a team, and not everyone is going to like it."
In the book, Wiggins discusses the idea that Henri Desgrange, the 'Father of the Tour', created the Tour de France in 1903 envisaging a "perfect winner".
Wiggins believes Desgrange wanted "the type of super-athlete who would not only defeat his opponents, but also whatever nature might throw at him".
He added: "It was an extreme vision of cycling, and a very French one. But it explains why Tour de France winners tended to be masochistic, obsessive and on occasion borderline sociopathic.
"Lance's story has been told ad infinitum, but for me one of the most interesting aspects is his transformation from classics rider to post-cancer Grand Tour rider.
"Taking out what happened subsequently, he won the sprints and time trials in yellow. He brought spectators back, and he was going across the fields after he crashed - and still winning. It's all those things combined which made him get through seven Tours without any real mishaps or retirements. Just getting through one is hard enough, so to do it for seven..."
Wiggins, who refers to Armstrong in the book as "the archetypal Tour de France cyclist", added: "If Desgrange could name the attributes to the perfect winner of the race, I think Lance would tick every box, and in personality as well with the character about him and all that. So that's how I describe it, and I don't think I'm out of place by saying that."