Team Sky rider and former Olympian Philip Deignan retires aged 35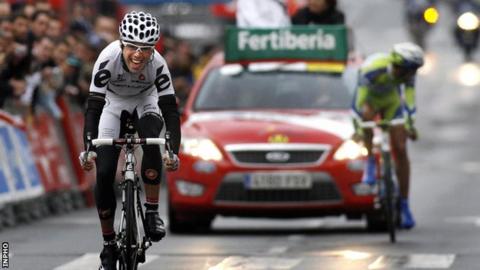 Irish cyclist Philip Deignan says he feels a "combination of sadness but also a huge sense of pride and optimism" upon announcing his retirement from the sport.
The Team Sky rider rode in 10 Grand Tours, winning stage 17 of the 2009 Vuelta a Espana.
"As a 15-year-old riding on the road around Donegal I never dreamed that I would go on to make the sport I love my job for 14 years," he wrote on Twitter.
"On to the next challenge."
The Letterkenny man, 35, represented Ireland in the Road Race at the Beijing Olympics before becoming the first Irishman to ride for Sky in 2014.
Deignan was regarded as a strong climber and secured a ninth-place overall finish in the 2009 Vuelta.
He rode the Giro d'Italia in his first year with Sky as the competition began in Belfast before claiming a third place finish in the 18th stage.
"There have been lots of ups and downs," said Deignan.
"But to be able to finish my career healthy and at the top of my sport with the best team in the world, makes me grateful and proud."