HSBC to end multi-million pound sponsorship of British Cycling at end of 2020

By Dan Roan
BBC sports editor
Last updated on .From the section Cycling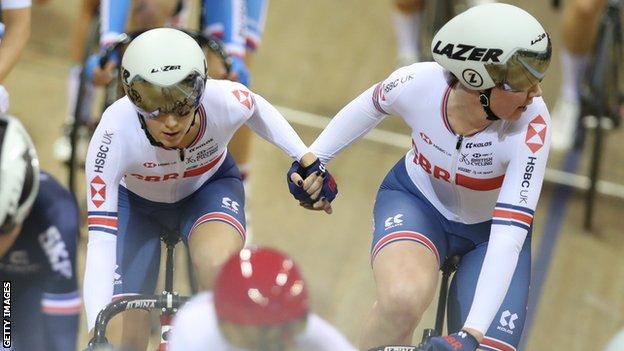 HSBC will end its multi-million pound sponsorship of British Cycling at the end of 2020.
The bank has exercised a break clause in its contract - just three years into an eight-year-deal.
In correspondence obtained by the BBC, British Cycling boss Julie Harrington told colleagues the partnership was ended by HSBC due to a "shift in its UK marketing and partnership priorities".
The governing body will now look to find a new partner in 2021.
Julie Harrington added: "We are an ambitious organisation with a proud tradition of setting and hitting big targets and we know that more people on bikes is the solution to many of society's biggest challenges.
"As we look to 2021, we will be actively engaging the market to find a new partner to be part of the next stage of our exciting journey."
It is a major financial blow for British Cycling who only started the lucrative deal, thought to be worth around £10m per Olympic cycle, in January 2017.
Former British Olympic rider Callum Skinner tweeted, "This will obviously pose a major challenge and it will be gutting if valuable frontline work is cut as a result of this. Weak leadership in dealing with historical and present-day issues could have cost the sport millions."
When announcing the deal at the time, former British Cycling chief executive Ian Drake described it as a "huge moment for cycling in Great Britain".
Last week, HSBC said it will axe around 35,000 jobs as it announced profits for 2019 fell by about a third.
British Cycling - one of the country's best-funded and most successful governing bodies in terms of performance - announced a financial loss last year in its most recent accounts.
In recent years it has suffered a number of controversies. In 2017 it apologised for "failings" following accusations of bullying and sexism against top-level cyclists, and an independent review criticised its governance.
The following year it was accused of hindering a UK Anti-Doping Agency investigation into a medical jiffy bag sent to a race in France.
A medical tribunal for former Team Sky and British Cycling senior doctor Richard Freeman over a mystery testosterone delivery to the national velodrome will resume in the spring. He has been charged with helping a rider to dope.