Martin Adams laments BDO World Championships neck injury
Last updated on .From the section Darts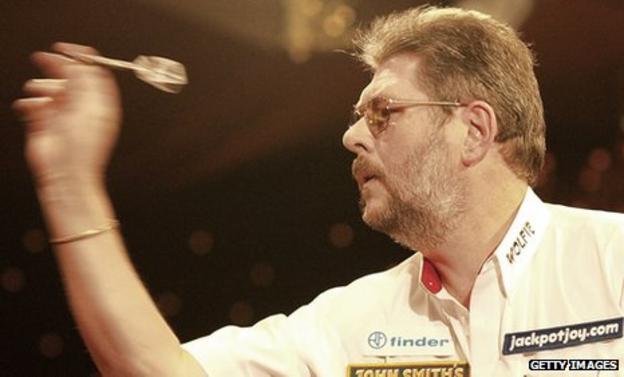 Three-time BDO world champion Martin Adams has revealed that a neck injury hindered his 2012 title defence.
The 55-year-old failed in his bid for a third consecutive Lakeside crown after going out in the quarter-finals to eventual runner-up Tony O'Shea.
He told BBC Radio Cambridgeshire: "It prevented me from putting in the right amount of practice before playing Tony.
"I was in quite a lot of pain when I played Gary Stone [in the previous round] and got away with it."
The Cambridgeshire and England team captain added: "You can't stand and put in the hours you would normally put in.
"For whatever reason when I woke up on the Monday morning at Lakeside I just couldn't turn my head.
"But that's the way things go. We're not moaning or crying about it.
"We're just getting on with it for the next event which is the Dutch Open."
O'Shea went on to lose in the final to Dutch qualifier Christian Kist and Adams, a member of the British Darts Organisation board, admitted the new champion was something of an unknown quantity.
"I can't really tell you more about him than what's been said on the television," he said.
"I've never played him. People say he's a good player but until I face him I can't cast any opinion on what the guy's like."