Phil Taylor to sponsor aspiring stars at darts qualifying school
Last updated on .From the section Darts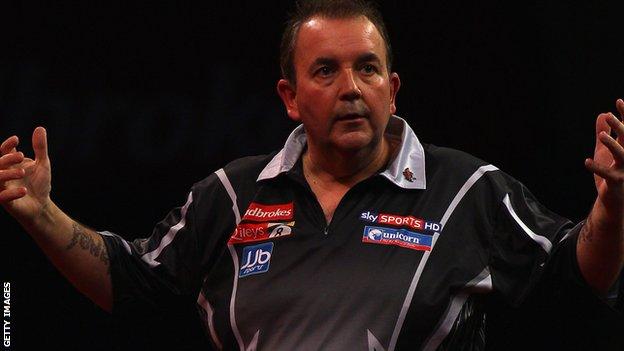 Fifteen-time world champion Phil Taylor is to pay for 16 aspiring darts players of all ages and abilities to compete for places on the professional circuit.
They will be selected from competitions and regional finals to be held in Rileys clubs across the UK.
"It could be anybody. There will be 16 qualifiers that go through to Q School," Taylor said.
"Let's hope that in that number is the next up and coming player."
The sport's popularity is at an all-time high and Taylor is keen to take advantage of the situation.
The 51-year-old is encouraging people of all ages to take part and thinks the next star of the sport might never have played before.
He added: "We are looking for someone who is like a sponge, so to speak, in that they soak up information and advice and we can help develop them.
"It doesn't matter what age they are or what their ability is.
"I'll know as soon as I see them. It is like a young kid kicking a football around in the street, you can see if they have the ability.
"The aim is to help them develop the talent they have."