Phil Taylor targets 16th world title at PDC World Championship
By Elizabeth Hudson
BBC Sport
Last updated on .From the section Darts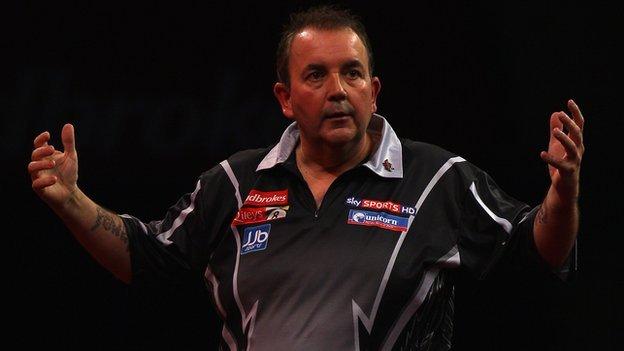 As Phil Taylor gets ready for his first match at the 2013 PDC World Championship on Saturday, the 15-time world champion could be forgiven for looking nervously over his shoulder.
Taylor, the best-known figure in darts, was previously the undisputed king of the World Championship but his crown has slipped after failing to reach the last two finals at Alexandra Palace, where his former protege Adrian Lewis has lifted the title on both occasions.
The 52-year-old, who starts his campaign against world number 57 Mickey Mansell, may still be top of the world rankings but he will be aware that this tournament will be a crucial one if he is to end his drought and show the rest of the world that there is still life in the man from Stoke.
Taylor has had a mixed 2012 by his own high standards. While winning his sixth Premier League and fifth consecutive World Matchplay crowns, he has also suffered some surprise losses in a year in which he has played fewer events than most of the other top players.
While conceding it will be tough for Taylor, who has won all there is to win in the sport, Dennis Priestley believes his old rival is still the one to beat.
"These World Championships could be a defining moment for Phil Taylor," Priestley told BBC Sport.
"Not winning the World Championship for the past two years probably really narks him and he will want to put that right."
Priestley, who himself faces experienced campaigner Ronnie Baxter in his first-round tie on Wednesday, started playing against Taylor on the Pro tour 23 years ago.
The Yorkshireman, 10 years Taylor's senior at 62, won his first world title with the BDO in 1991 and was part of the move to the PDC, beating Taylor in the first final in 1994.
Since then, the pair have met in four finals (1996, 1997, 1998 and 2000) with Taylor winning all of them and while Priestley, the elder statesman of the PDC, is happy to be playing at another World Championship, Taylor will be targeting more success.
"There are lots of things that make Phil Taylor the best player in the sport," Priestley added.
"He wants to be the best. He has an incredible dedication to practice, a very strong-minded will to win, great concentration and he has bottle - in bucketloads.
"Phil expects to win, and that makes him the player he is, and losing in the second round to Dave Chisnall last year after going out in the quarter-finals to Mark Webster the previous year, will have been a kick in the teeth.
"To not even reach the final for a third year in a row would be devastating and if that happens he may well be thinking whether his time at the top has gone."
Taylor admits his age means he has to take more care over his approach to tournaments and he has opted not to play in a lot of the Pro Tour events which take place over weekends throughout the year.
"The beginning of 2012 was good. I slacked off a bit in the middle when I got a little tired and now I've picked up recently, which I've not been able to do in the past couple of years," he said.
"I can't peak for the whole year anymore, I used to be at my best every month and winning every tournament, but at least I'm in a position to be ready for this World Championship.
"I can go in there and just enjoy it now, instead of putting myself under pressure all the time. If I win, I win. If I lose, I lose. It's not the end of the world.
"Of course I would be devastated if I lose at the World Championship, but a few hours after that I'd move on to the next one. I've got nothing to prove to anyone except myself and I will be going in there giving it my best shot to win one more world title."
But in the most open World Championship for many years, Priestley believes his old sparring partner can make it world title number 16 on the first day of 2013 in front of another sold-out raucous Ally Pally crowd.
"There is no doubt that Phil can win another one. Even though people think he is on the way out, he is still the one to beat. He is the bookies' favourite and deserves that tag and he certainly hasn't lost his determination," he said.
"However, other players are now not afraid of him - players like Dave Chisnall and Michael van Gerwen - and they know they can and they have beaten him, although Phil is the most consistent player out there and I think that will be in his favour."