Gary Anderson targets big finish at PDC World Championship

By Phil Goodlad
BBC Scotland
Last updated on .From the section Darts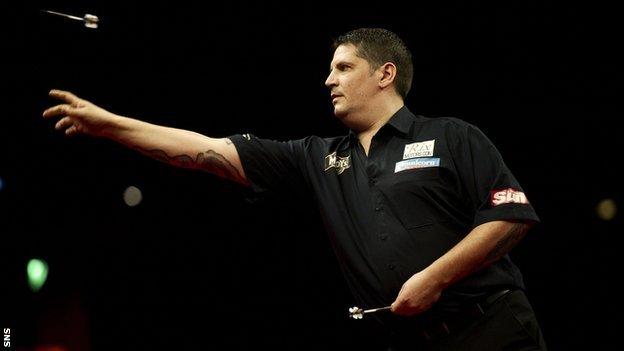 Gary Anderson says winning would help erase the personal pain of 2012.
The Borders man begins his bid to win the tournament in London this weekend.
But, after the deaths of his father and brother and going blind in one eye earlier in the year, Anderson is just happy to be back at the oche.
"I can't wait till after January, it's a new year, new start," he said. "We'll see if we can finish this year on a bit of a high."
It may be coming up to the festive period but not for darts players. The world's best begin their bid to become world champion on Friday evening, with Scot Anderson regarded as one of the favourites.
"Last year was great and the year before was good as well," he told BBC Scotland. "This year I've just kind of washed it away.
"I'm happy with the way my darts are going and the way I'm playing just now in practice. It's 100% better than what it has been in the last 12 months.
"That would just top of a year, I would settle for that. But, if it's not to be, it's not to be this year. I've not got great expectations. I'm happy with the way I'm playing and if my game comes at the right time then I'll be fine.
"In the last year, I've lost my brother and my dad so darts over the last 12 months has really just taken a back stand to be honest. Family always comes first. That's the kind of year it's been.
"But, the head's starting to get clear now and the darts are coming back slowly but we're getting there."
Anderson still has occasional problems with his eye but has a strategy in place to manage the condition.
"I had just some kind of infection in my left eye which made everything blurred so I just couldn't see," he explained. "It doesn't help when you cover your right eye with your dart hand.
"I was on drops for about four months. That's kind of cleared it up, which is good.
"It still comes up now and again, it'll still swell up but not as bad as what it was. It still comes and goes but now, as soon as I feel it coming, I get the drops again and get them put in."