Phil Taylor: World darts champion upset by 'cheat' accusations
Last updated on .From the section Darts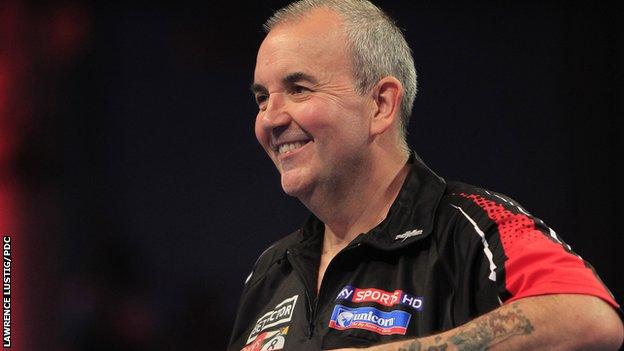 Sixteen-times world champion Phil Taylor says he has been left hurt by accusations of cheating during the Gibraltar Darts Trophy in June.
The 52-year-old reached the last four of the World Matchplay on Thursday.
But he told BBC Radio Stoke: "You get about 20 people in the audience calling you a cheat. It hurts your feelings."
Speaking after his quarter-final victory over Justin Pipe in Blackpool, Taylor continued: "You can't blank it out because people won't let you blank it out.
"You've just got to get on with it, let the crowd settle down and do your job."
The controversial incident in Gibraltar happened during a second-round match against Dean Winstanley, when Taylor was awarded a leg despite video footage suggesting he had missed his dart at double 12.
Having reviewed the evidence, the PDC released a statement soon afterwards, saying the mistake was a "rare human error" by match referee Russ Bray.
It also said Winstanley had not objected to the call at the time and confirmed Taylor had offered to replay the match.
The world number one from Stoke-on-Trent, who went on to win the tournament in Gibraltar, added: "I offered to forfeit the game.
"I said if it wasn't right I would forfeit the game and give my prize money to Dean, or I'll replay the game altogether, because I would never cheat. Never in a million years.
"Then certain people come out and say certain things - it's very hurtful."