Phil 'The Power' Taylor to challenge Manx darts players
Last updated on .From the section Darts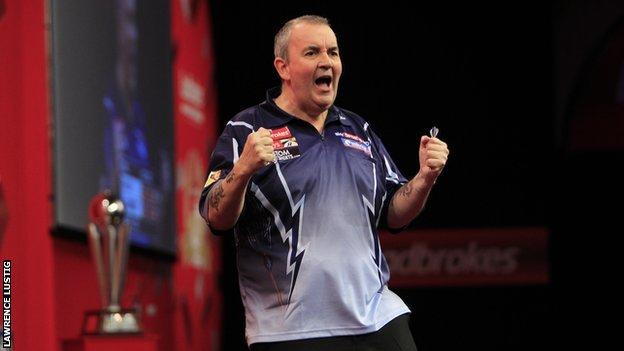 Eight Isle of Man darts players have qualified for the chance to compete against 16-time world champion Phil 'The Power' Taylor later this year.
All qualified through a series of on island tournaments this month and will now face a final play-off on 9 August for the chance to play against Taylor.
Two Manx players will be entered in the Isle of Man Darts Classic alongside Taylor, Simon Whitlock and James Wade.
Organiser Steve Templeman said it is a "once-in-a-lifetime opportunity."
The eight Manx qualifiers are Colin Tyrer, Aaron Bradley, Dave Western, Wayne Harrison, Paul Palmer, Paul Kelly, Ian Fields and Patty Lindsay.
Taylor said: "I am really looking forward to playing. We will all be trying our best to win. I can't wait."
"I want to meet the people and play the best local players and I'm sure I will enjoy it as much as I hope they will."
More than 1000 spectators are expected to watch the main event, which will be held in Douglas on 28 September.
The event will be hosted by former BDO World Darts Champion Andy 'The Viking' Fordham.