BDO World Darts: Scott Waites affected by power cut
By Phil Cartwright
BBC Sport at Lakeside Country Club
Last updated on .From the section Darts
Defending champion Scott Waites said a power cut at Lakeside affected his preparations as he crashed out of the BDO World Championships in round one.
The venue was left in darkness for 45 minutes and power restored at 14:20 GMT, about 15 minutes before the start.
Waites went on to lose 3-0 to Alan Norris.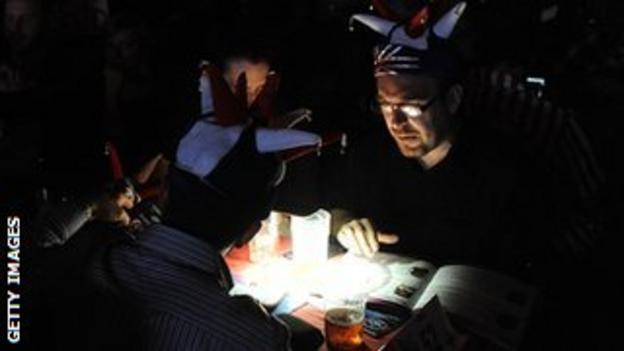 "You get told a time you're going to be on, and if something happens like that, your time should be put back another hour or so," he told BBC Sport.
"Or however long it takes for that to be made right.
"The electricity was off for maybe an hour, so our game probably should have been postponed for an hour. But it probably wouldn't have made much of a difference. It's one of those things."
The 36-year-old Yorkshireman, who works as a carpenter, had long been tipped for success at Frimley Green and finally ended his wait for a world title by hammering fellow Englishman Tony O'Shea in last year's final.
However, he produced a below-par display on his return as champion and proved no match for Norris, who averaged more than 93 to book his place in the second round.
"It's been good being world champion," continued Waites.
"There's been a lot of pressure this year, but I didn't feel pressure going up on stage, even though my darts didn't go anywhere near where I wanted them to go. The best man on the day won, and it wasn't me."
Waites, a former World Masters and Grand Slam of Darts winner, had endured a difficult build-up to the tournament, after suffering a neck injury that severely affected him in the days leading up to the event.
"It's been completely strange," he added. "I've gone out with a few mates, come back home, spent the night watching television and fallen asleep on the sofa. I woke up with a bad neck and I wasn't able to play for three days.
"It's the little stuff that hinders how you're going to play. It's hindered my practice towards the World Championship. I haven't been able to practice properly and it's cost me.
"But you can't use that as an excuse. Alan played a lot better than I did. Alan played well and I played garbage. He deserved to win 3-0."