Phil Taylor: Sixteen-time world champion outlines retirement plan
By Stephan Shemilt
BBC Sport
Last updated on .From the section Darts
Sixteen-time world darts champion Phil Taylor says he plans to retire from playing competitively in "two or three years", but will stay in the game.
The 54-year-old told BBC Sport: "Nobody wants me to retire, people get teary when I mention it. It's got to happen.
"Maybe they'll keep me in the [invitation only] Premier League, maybe I'll be a pundit, but I'll always be there around the game."
Taylor won his first world crown in 1990 and his most recent in 2013.
After being beaten in the second round of this year's tournament by Michael Smith, Taylor suggested he would have to manage his schedule if he was to continue competing at the top level.
However, as the biggest name in the sport, he says there is pressure for him to go on appearing in as many tournaments as possible.
"It's very difficult," he said. "There's pressure on be to be at every tournament and to do all the promotion."
Taylor also said he had planned to retire at the age of 55 but, after the Professional Darts Corporation agreed a new television deal, he was persuaded to stay on by chairman Barry Hearn.
"He said 'do me five years', and I said I would if my health was good," said Taylor. "He said he'll retire the same day as me."
Taylor also took questions from BBC Sport readers via our Facebook page, a selection of which are listed below.
Steve Hatch: Do you think you have another world title in you?
Phil Taylor: Yes, I have, but I've got to time everything right. The Worlds are what I'm after this year, but I've got to get two or three weeks solid practice in before I go there.
Peter Shaw: Who's your toughest opponent and why?
Phil Taylor: Over the years, it's been Dennis Priestley, because he was so consistent for so long and a very slow thrower. Michael van Gerwen, Adrian Lewis and Raymond van Barneveld are all very good players, but no tougher than Dennis.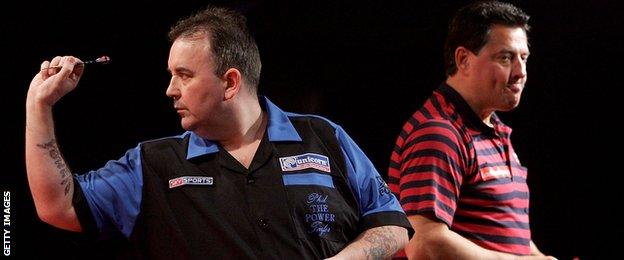 Iain Morton: If you could be the world champion of any other sport, what would you choose and why?
Phil Taylor: I love boxing and do it a lot. I've got so much respect for boxers and, being friends with some you see what they have to put in. It's the toughest sport, along with rugby. Tennis and golf too. These are individual sports - like darts. I couldn't see myself in a team.
Dianne and John: Of all the matches you have played, which one was the toughest and the best match of all time?
Phil Taylor: The best match was against Adrian Lewis at the Grand Slam of Darts last year. We hit 30-odd 180s between us. Also, the final of the Premier League against James Wade 2010 when I hit two nine-dart finishes.
Ben Spowart: What's it like to walk down to the stage, with the crowd chanting your name?
Phil Taylor: Noisy. It's changed, because the audience is getting younger, louder and brasher.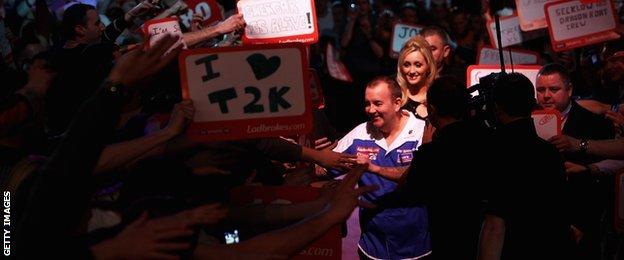 Niall Bradley: When you first started playing darts, if someone said to you that you would have won hundreds of titles worldwide, what would you have said to them?
Phil Taylor: I would have thought they were nuts. I knew I could win, I knew I had the talent to beat the players that were about then. I had no idea if I could keep it up because I didn't know if darts was going to be any bigger. It was on the decline.
Nathan Wellstood: How do you stay motivated after so many years at the top?
Phil Taylor: It's about who you are, your DNA. My mum and dad taught me to get up and put the work in, doing it the best you can. It's not just about me, it's for the other people around me.
Iwan Jones: If you weren't a darts player what would you be?
Phil Taylor: The ceramics place where I worked has been knocked down. I'd probably have been in the building trade, or a decorator.