BDO World Championships: Deta Hedman hints at retirement
Last updated on .From the section Darts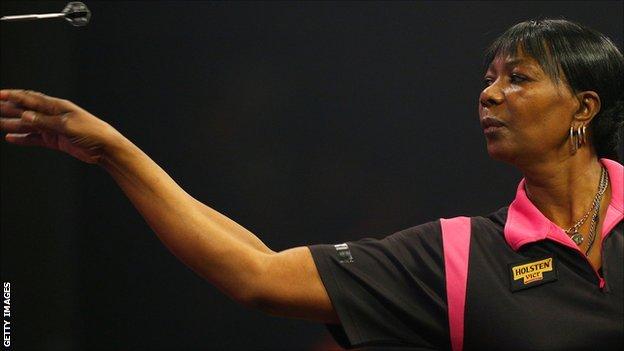 Oxfordshire's Deta Hedman has hinted she may retire from darts following her defeat by Lisa Ashton in the first round of the BDO World Championship.
"This year my darts has been okay but not as good," the 55-year-old told BBC Radio Oxford.
"Personally I wonder whether it might be time to take a back seat. I've given it my all over the past few years and I just feel I can't give any more."
Hedman admitted that having to work nights meant she struggled to find time to practice for the Lakeside.
"At work I have a dart board, so I put a bit of a time in, but I feel like I need to take some time away from it," she continued.
"I don't know if it is the BDO system, but I just feel like I need a bigger challenge. I just can't seem to get past this hurdle and it's frustrating.
"I haven't fallen out of love with darts, but it's hard when you have a full-time job.
"With my age, it's hard work. I have given it what I can. I'm gutted, I can't deny that, but I don't know where to go from now."