Martin Adams to play Grand Slam of Darts for first time
Last updated on .From the section Darts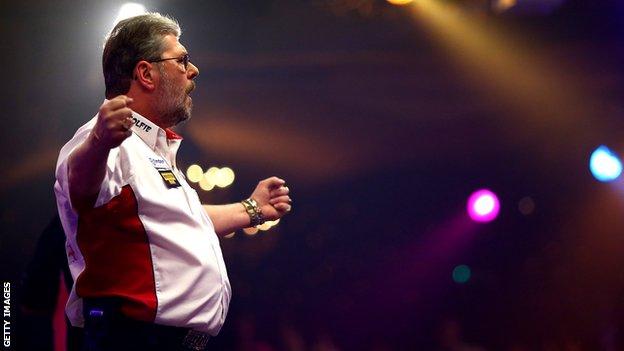 Three-time BDO world champion Martin Adams will play in the Grand Slam of Darts for the first time in November.
The 59-year-old told BBC Radio Lincolnshire he would "probably not" have accepted the invitation had he not been asked to do so by the BDO.
The Grand Slam is the only televised event which features players from both the British Darts Organisation and Professional Darts Corporation.
Eight BDO players, including world champion Scott Mitchell, will compete.
Mitchell, 45, won the BDO world title for the first time in January, beating Adams 7-6 in a classic final at Lakeside.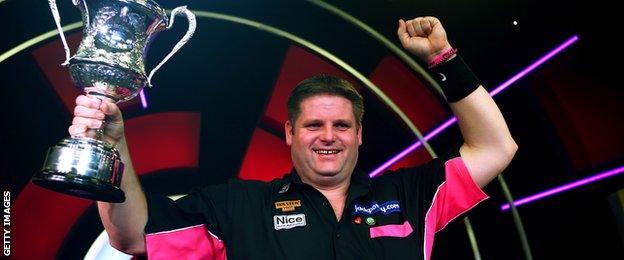 He will make his Grand Slam debut in Wolverhampton, while fellow BDO players Geert de Vos and Martin Phillips are also assured of places following victories at the World Trophy and World Masters respectively.
They, along with four more BDO players who must qualify in October, will take on 24 players from the PDC.
Among the latter will be defending Grand Slam champion Phil Taylor and Gary Anderson, who won the PDC version of the World Championship a few days before Mitchell's success.
Adams, the BDO champion in 2007, 2010 and 2011, had previously rejected all previous invitations to play in the Grand Slam since the competition's inception in 2007.
"I was spoken to by the BDO just over a week ago and was told I would get an invitation," he said.
When asked if he would have accepted it if he had not been asked to by the BDO, Adams replied: "Probably not. If they hadn't been of the mind that they wanted me to, I probably wouldn't.
"I know it will make a lot of my supporters very happy indeed. Hopefully I'll do well and it would be nice to win it, but who knows?"
Darts split into two governing bodies in 1993.