Phil Taylor says John Henderson 'has title potential'
Last updated on .From the section Darts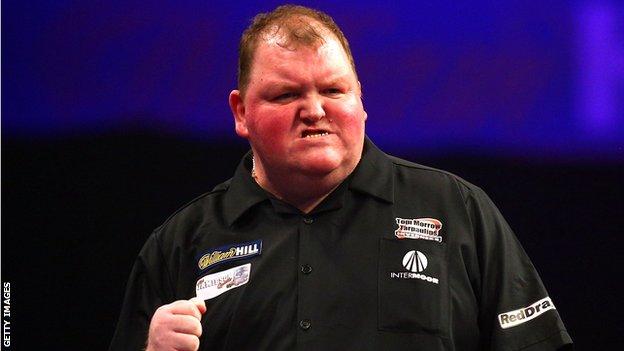 Defending champion Phil Taylor says John Henderson has the ability to emulate fellow Scot Gary Anderson ahead of their World Matchplay Darts meeting.
"I've watched him practising and he's brilliant," said Taylor of Henderson.
"Then I've watched him go on TV and not play as well as he can on the practice board. Like Gary Anderson's done, he's got to put the practice board game on to the TV game."
Taylor, who has won the Matchplay title 15 times out of the 21 times it has been staged, will be overwhelming favourite to defeat Henderson at the Winter Gardens, Blackpool, on Monday.
But the Englishman will not be treating lightly the 42-year-old whose entrance music is "Big Bad John".
"John is in good form at the minute, but he's a gentle giant," 54-year-old Taylor told BBC Scotland. "If he wins, he smiles, if he loses, he smiles.
"He's a lovely lad, so it's going to be a little difficult for me.
"You have got to learn, it is all about experience and John is gaining that now. He's a dangerous player to play.
"But I'm playing well enough, my form's good, I'm practising well, I'm relaxed."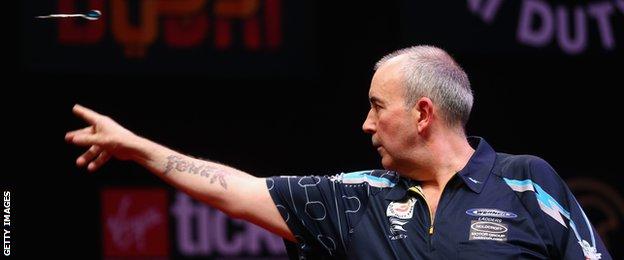 Henderson says all the pressure is on the 14-time world champion at the tournament for the world's top 32 players.
"I've never played Phil Taylor on the big stage, so I'm actually looking forward to it," he said.
"I'm on a hiding to nothing really, so I'm going to go up there with no pressure, enjoy he occasion and hope I can give him a good game.
"Everybody would say that, if they beat Phil Taylor, would be the biggest win of their career because he's the greatest man ever to throw three darts.
"It would be an awesome victory for me. I hope I can catch him cold and I can play my A game.
"You never know - it's all on the night and hopefully there's an upset on the cards. I will certainly give it my best."