Phil Taylor's Stoke-on-Trent: Darts capital no longer on full Power?
Last updated on .From the section Darts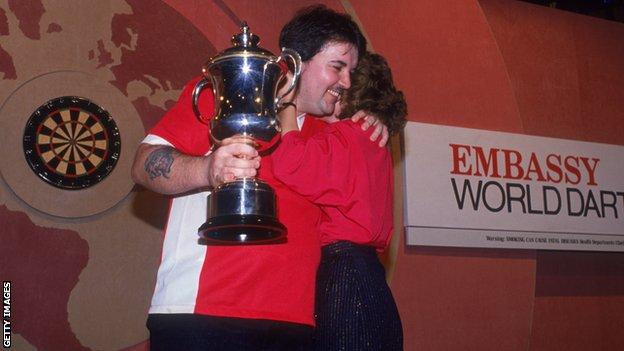 When Phil Taylor and Adrian Lewis reclaimed England's World Cup crown in Germany in June, there would have been few who denied that Stoke-on-Trent, their home city, was the centre of the darting world.
But that was before 54-year-old Taylor's 17-14 defeat by James Wade at the World Matchplay at the Winter Gardens in Blackpool.
In a tournament eventually won by the Professional Darts Corporation's world number one Michael van Gerwen, it was the first time that Taylor, the 16-times world champion, had been defeated in Blackpool since 2007.
For the first time since 1994, "The Power" does not hold any of darts' holy trinity of titles - World Championship, World Matchplay or Premier League.
Lewis, world champion in 2011 and 2012, has dropped to number five in the PDC's Order of Merit - his lowest position for a number of years. And, while Taylor himself will claim that he is still at the top of the game, his record in recent major tournaments might suggest otherwise.
BBC Radio Stoke's Kick Off reporter Jack Taylor, from Taylor's home city of Stoke-on-Trent, looks for a few pointers on what will happen next...
How it all began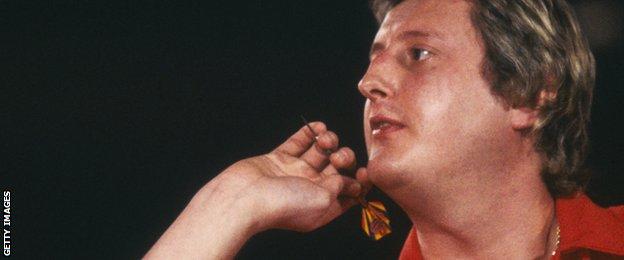 It is 25 years since Phil Taylor shook the world by defeating five-times world champion Eric Bristow, then the world number one, to become the 1990 World Darts Champion.
Bristow's impact on Taylor's career should not be underestimated - he discovered Taylor on the Stoke pub scene in the 1980s and offered guidance to his young protégé.
The manner of Taylor's victory, a 6-1 demolition, surprised many outside observers. Yet now, a quarter of a century on, many would not blink an eye at such a result.
Taylor has since taken his collection of world titles to 16, supplemented by 15 World Matchplay crowns and six of the 11 Premier League titles which have been up for grabs, plus countless other ranking titles.
The inspiration of a generation
Phil Taylor's achievements have inspired a generation of players from the Potteries.
Between 1994 and 2015, a Stoke-on-Trent player managed to reach the final of the PDC World Championship on all but two occasions.
Taylor's darting dominance
Phil Taylor won the first two of his 16 world titles as the British Darts Organisation champion in 1990 and 1992.
He was then one of the founding members of the Professional Darts Corporation, which was formed following a breakaway involving several top players in 1993.
His other 14 world titles under the PDC's banner, starting with an eight-year unbeaten run between 1995 and 2002.
Adrian Lewis, 30, has won two world titles, defeating fellow Stoke thrower Andy Hamilton in the 2012 final at the Alexandra Palace.
"I think it's a bit of a fluke that so many players from Stoke have been so successful," PDC director Rod Harrington told BBC Radio Stoke. "I don't believe that there will be an area that will produce the top quality darts that Stoke has."
Three years on from his second world title victory, Lewis has dropped to number five in the world, while Hamilton currently resides outside the world's top 16.
With Taylor approaching the end of his career and other Stoke talent struggling a little too, is the state of darts in the city a cause of concern?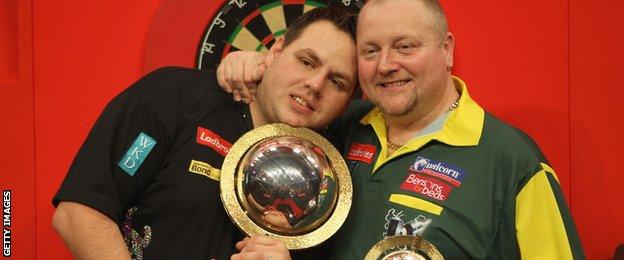 Stoke's new White knight
Phil Taylor himself believes that Stoke-on-Trent will remain at the top of the game, thanks to the efforts of world number nine Ian White.
White, 44, is one of the game's late developers, having reached the PDC World Championship quarter-final in 2014, before producing an encouraging display to reach the last eight of this year's World Matchplay.
"He's dangerous, and will go onto win many tournaments," said Taylor. "He's the best player I practice with and will become a big star in the game."
So what does the future hold?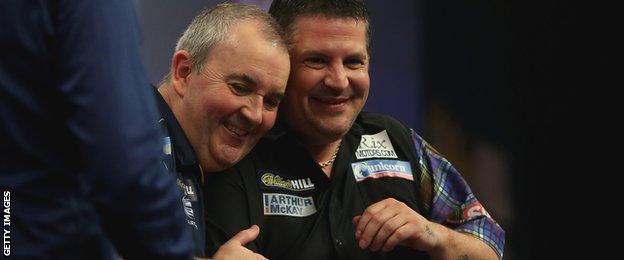 Players in the PDC now compete in tournaments across the globe, inspiring new players on their travels. However, within Stoke-on-Trent, the game remains as popular as ever.
The achievements of Taylor, now ranked third in the world, have inspired young people in the city for a generation. Even now, as his career appears to be slowly coming to an end, his legacy lives on in the city.
With players such as Ian White and Adrian Lewis in the world's top 10, and with many more youngsters continuing to compete at development tour level, Stoke's darts future seems positive.
Despite the game becoming increasingly global, Stoke's pub scene remains as strong as ever, with a number of young players continuing to come through the ranks.
One of those young players is Jamie Landon, who alongside fellow Stoke thrower Callum Matthews, will this year take their places in Sky's "The Darts Factor" - a reality television programme aimed at finding some of the sport's future stars.
Landon said: "There are a number of local darts players who will come through in the near future. We just need the backing and the break."
Taylor's darts legacy in the Potteries
Stoke-on-Trent's impact on the sport will not be forgotten, and its darting heritage was recently used in the Potteries' successful bid to become the European City of Sport for 2016.
"The game is in good hands," says former darts commentator and BBC Radio Lancashire stalwart John Gwynne. "Taylor's legacy won't be forgotten.
"The likes of Michael van Gerwen and Gary Anderson will continue to raise their game to the next level thanks to Taylor's pioneering effect."