BDO World Championships: Lisa Ashton beats Anastasia Dobromyslova in final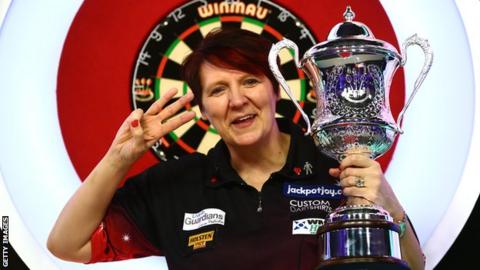 England's Lisa Ashton won her fourth BDO world title with a 3-1 victory over Russian Anastasia Dobromyslova.
Ashton is now second on the all-time list of titles won - behind 10-time champion Trina Gulliver.
Dobromyslova, herself a three-time winner, knocked out Gulliver in the semi-finals, but she was no match for Ashton in Saturday's final at Lakeside.
"I really stepped up," said 47-year-old Ashton.
Speaking to Channel 4, she added: "I was quite happy with that - I started slow but am so happy my form is coming back now."
In the men's competition, defending champion Glen Durrant beat Scott Waites 6-2 and will play fellow Englishman Mark McGeeney in the final.
Both Durrand and Waites had come from 4-1 down to win 5-4 in their respective quarter-finals, but the latter could not repeat the feat.
"I felt it yesterday but experience kicked in and I felt I grew throughout that," Durrant said.
"Consistency is the key for me. I am not the best finisher in the BDO but am consistent right the way through."
McGeeney beat German debutant Michael Unterbuchner, a qualifier, 6-4 in his semi-final.