Eric Bristow: The Crafty Cockney - Tribute to a darts pioneer
Last updated on .From the section Darts250
It was the perfect tribute when thousands of darts fans burst into a rendition of "There's only one Eric Bristow" on hearing the five-time world champion had died.
Sold-out arenas and the glitzy razzamatazz of the modern sport is a legacy of Bristow, who helped transform darts from a pub game.
The 60-year-old died on Thursday after collapsing at the Echo Arena in Liverpool where the latest round of the Professional Darts Corporation's (PDC) Premier League was being held.
Fans sang his name as a big screen carried a picture of the Londoner, the self-styled 'Crafty Cockney' who raised the profile of darts with a cocky swagger during his heyday and was a key figure in forming the PDC.
Bristow's dominance in the 1980s made him a household name and prompted the late, great commentator Sid Waddell to wax lyrical about this talent.
"When Alexander of Macedonia was 33 he cried salt tears because there were no worlds left to conquer. [Eric] Bristow's only 27," he would say.
Referencing a television advert for Bisto gravy, Waddell uttered another memorable line - "Bristow reasons, Bristow quickens...ahh Bristow".
Misspent youth to master of the oche
Born to plasterer George and telephonist Pamela, Bristow grew up in Stoke Newington and would later admit to car theft and burglaries in his youth.
He was given the cane on his third day at Hackney Grammar School and admitted carrying a claw hammer in his trousers in case of trouble.
Bristow was 11 when his father gifted him a dartboard. Three years later, he was playing for a local team and by 15 was making more through tournament prize money than from his first paid job as proofreader for an advertising agency.
His unique technique - little finger outstretched in the manner of a refined tea party guest - initially marked him out for scorn, but soon became the trademark of a winner in an era where competitors still smoked cigarettes and drank alcohol on live television.
At 30 he had pretty much done it all. Five world titles, an MBE on the way and mainstream popularity.
"You've always got to have someone like Eric in any sport because people then sit up and watch," said Rod Harrington, a former world number one who commentated alongside Bristow.
"He took darts from being just a pub game to actually being classed as a sport. He brought it to the eyes of everybody. Without dear old Eric, we probably wouldn't be where we are today."
Throughout his rivalries with Jocky Wilson and John Lowe he played up to his nickname 'the Crafty Cockney' - a moniker he lifted from a bar he frequented in Santa Monica, California.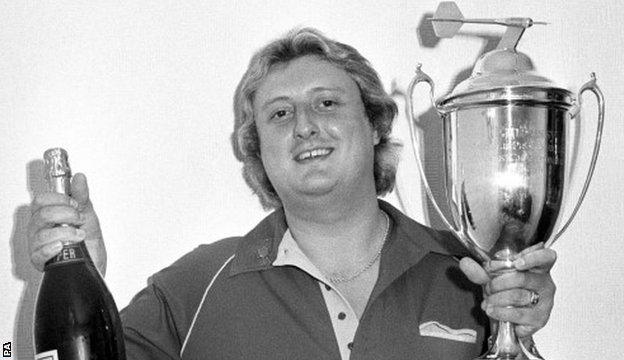 Dartitis and the breakaway PDC
Having spent most of his 20s as the world's number one player, Bristow went on to endure a long battle with dartitis - the game's equivalent of golf's 'yips' - which brought an inability to release the arrow.
"For a time I wondered what the hell I was going to do if I didn't recover. But I remained positive and, thankfully, got over it," he later reflected.
"It unquestionably cut my career short, but I'm positive about it. I'm just glad I didn't get it 15 years earlier."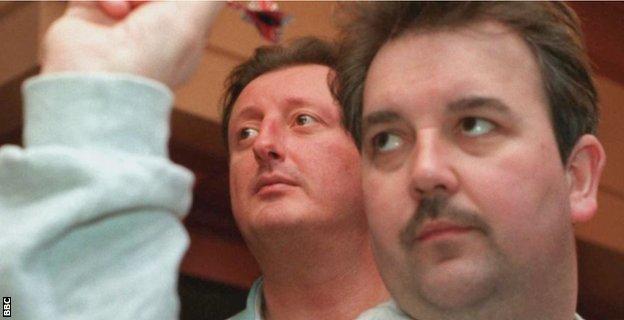 He married wife Jane in 1989 and became father to Louise and James over the next four years. His family later grew to include a half-brother, Kevin, whose existence had been a well-kept secret until he was 45.
Despite being a founder member of the breakaway PDC in 1993, he was no longer an elite performer, a semi-final run in the 1997 PDC World Championship a last big hurrah.
He was beaten on the day by Phil 'the Power' Taylor, whom he had first met as a young player in his adopted home of Stoke. Taylor benefited from the older man's financial support, name recognition and mentorship on the way to becoming a 16-time world champion.
Reacting to his death, Taylor said: "Words cannot express how sad and shocked I am to hear the terrible news about Eric's passing. A huge influence on my career and a larger than life character - the world has lost a legend. RIP pal."
From the dartboard to the jungle and controversy
Bristow's knowledge and no-nonsense chat helped the transition away from competitive darts, working for Sky television as both a commentator and spotter.
He was divorced in 2005 and met his partner Becky six years later.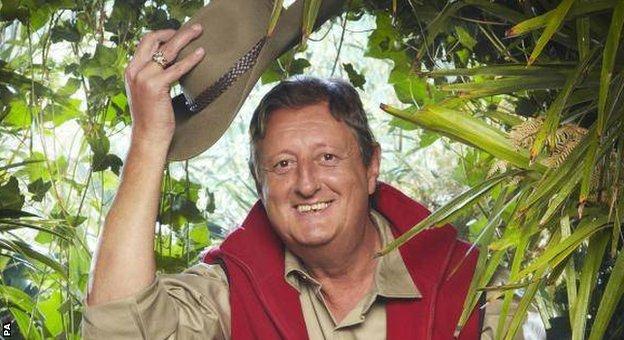 Bristow worked the exhibition and autobiography circuit and in 2012 went to the jungle for ITV show I'm A Celebrity... Get Me Out of Here!
The Australian outback was a change from his usual holiday haunts of Tenerife and Las Vegas but he charmed viewers sufficiently to finish fourth in the show, striking up an unlikely bond with Made in Chelsea's Hugo Taylor along the way.
In 2016, he lost his role with Sky after a tweet relating to the sex abuse scandal in football where he suggested victims were not "proper men".
He later apologised for his comments, describing himself as a "bull in a China shop" and said he "appreciated my wording was wrong and offended many people".
Keith Deller, who claimed a shock victory over Bristow in the 1983 world final, went on to become a close friend.
"Eric was a person who said what he thought and wouldn't talk behind your back. He's upset people, but it wasn't in a malicious way," said Deller.
"If we were out, he would say 'text me when you get home'. He always wanted to make sure I got home safe. Eric was like that and people didn't really see that side of him."
Bristow won more than 70 professional titles during his career, was inducted into the PDC Hall of Fame in 2005 and retired from competing at the end of 2007 but was always grateful to the game that made his name.
"Hopefully I've given something back to darts, which has been brilliant to me," he said.
"Hopefully I made it a bit popular when I first started, I was part of the breakaway, and I also created a monster, so I think I've done a little bit - and if you don't like it: up yours."
Champion, controversial, showman. There was only one Eric Bristow.