Gary Anderson & Wesley Harms deny farting accusations at Grand Slam of Darts
Last updated on .From the section Darts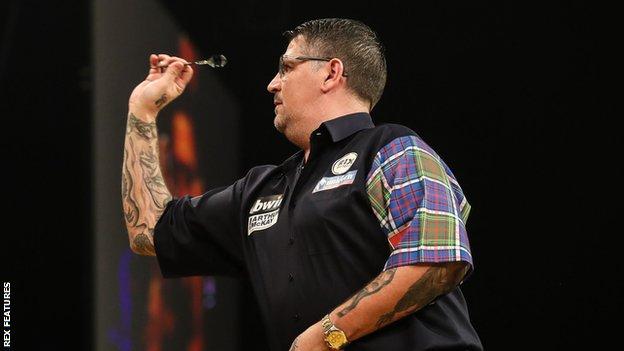 Some athletes blame poor performances on the state of the pitch. Others blame it on tactics, or perhaps just a bad day at the office.
But blaming your opponent for farting is definitely a new one.
Yet that's exactly what happened at the Grand Slam of Darts in Wolverhampton, with both Gary Anderson and Wesley Harms denying responsibility for the "rotten egg smells".
Two-time world champion Anderson, 47, won Thursday's match 10-2 to progress to the quarter-finals, but Dutchman Harms, 34, was quick to explain his sub-standard performance by accusing his Scottish opponent of leaving a "fragrant smell".
He told Dutch TV station RTL7L: "It'll take me two nights to lose this smell from my nose."
World number four Anderson was not best pleased by the accusation, saying the smell had definitely come "from the table side" at the Aldersley Leisure Village.
"If the boy thinks I've farted he's 1,010% wrong," he told The Sun. "I swear on my children's lives that it was not my fault.
"I had a bad stomach once on stage before and admitted it. So I'm not going to lie about farting on stage.
"Every time I walked past there was a waft of rotten eggs so that's why I was thinking it was him.
"It was bad. It was a stink, then he started to play better and I thought he must have needed to get some wind out.
"If somebody has done that they need to see a doctor. Seemingly he says it was me but I would admit it."