PDC World Championship: Lisa Ashton secures tournament place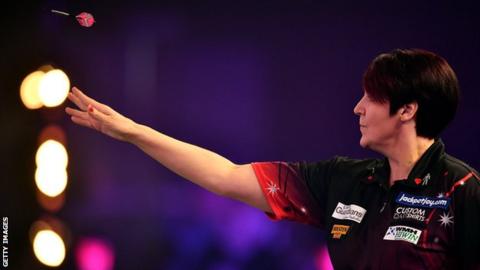 BDO women's world champion Lisa Ashton has qualified for next month's PDC World Championship at Alexandra Palace.
Ashton beat world number 10 Maria O'Brien 6-3 in Sunday's UK and Ireland women's qualifier at Milton Keynes.
The expansion of this year's worlds has led to two guaranteed places for female players.
Ashton, the world number one and a four-time world champion, will be joined at the tournament by Russia's Anastasia Dobromyslova.
"I'm so chuffed to get through," said Ashton. "For me, this is a massive win and it's a massive opportunity to play the men at Ally Pally.
"It's a dream come true and I hope I do the ladies proud. It's been such an amazing day, the quality has been excellent."
Dobromyslova, who lost to Ashton in January's BDO final, won last weekend's Rest of the World qualifier and will be making her second appearance at Alexandra Palace having lost in the preliminary round in 2009.
She was the second woman to compete at the Worlds after Canada's Gayl King in 2000.
Bolton's Ashton, 48, whose daughters Danielle and Lindsey also took part in Sunday's qualifier, did not drop a leg in her first five matches on her way to the semi-finals where she defeated Rhian Griffiths 5-2.
O'Brien defeated former women's world finalist Deta Hedman 5-2 to reach the decider but found Ashton too strong.
Among the absentees at Sunday's tournament was 10-time BDO world champion Trina Gulliver, who was playing at a sponsors' event in Italy.
The final places for the Alexandra Palace tournament, which starts on 13 December, will be decided at Monday's PDC Tour Card Holders' Qualifier, with the draw for the event to be made afterwards.
Ashton will also defend her BDO title in January at the Lakeside with Dobromyslova, Hedman and Gulliver also in the field.