GB visually-impaired judo pair clinch medal success
Last updated on .From the section Disability Sport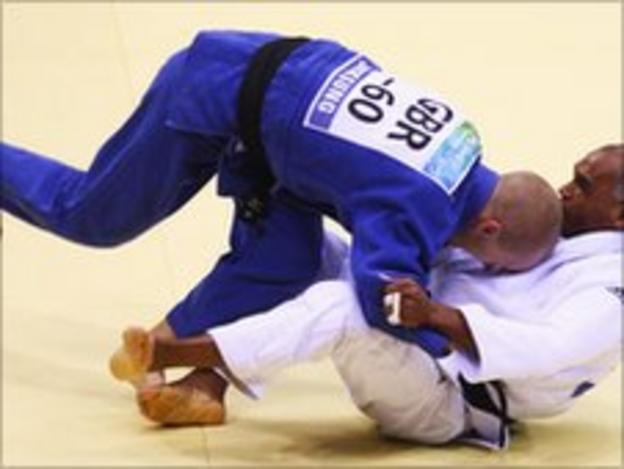 British pair Ben Quilter and Lesley Reid both came away with medals from the judo events at the Ibsa World Games in Turkey.
Quilter, who won the -60kg world visually impaired title last year, made it a second gold-medal success with victory over his Japanese opponent.
But Reid had to be content with silver in the +70kg category.
"I went in expecting a medal so I put pressure on myself but I knew I was capable," said Dartford-based Quilter.
"It feels really good, I made hard work of it, but I'm still really pleased with the result.
"There was a really good standard of competition, the same as the World Championships last year and I fought hard to get the gold."
Reid, who won World Championship bronze last year, beat Yilkiran from Turkey in her first match and Manzuoli from France in her second. She met Ghenem from Algeria in the semi-final and held her down to win her spot in the final.
But the 49-year-old from Royston, who is hoping to make her Paralympic debut in London, gave up 45kg in weight as Yuan from China powered her way to victory in the final.
"I did what I came here to do, it was my target to get in the final and I did, so I am really pleased," said Reid, a long-time member of the Cambridgeshire-based Melbourn Judo Club.
"Over the last year I lost a lot of weight through training, but I have pretty much put it all back on in muscle.
"I was giving away quite a lot of weight and she caught me early on in the fight. I won all my other fights within the first minute, so all that hard work on strength and conditioning wasn't really put to use, but I am pleased with the result.
"Visually-impaired judo is very hard on the legs as you start gripped and there's not a massive amount of movement, so strength and power is vitally important.
"It was a good competition and good experience for me. I have learnt that I need more competition experience to get that full confidence and I need to start getting used to fighting heavier girls than me.
Paralympic programme manager Dave Sanders said: "Ben has continued to work really hard over the last year and is always looking to push himself and improve.
"His continued success is an absolute credit to himself and the Paralympic performance coach, Jean-Paul Bell, and the support team at the British Judo Performance Institute.
"It's also a great result for Lesley, who has worked hard over the last year and made big improvements in her judo and physical and mental preparation.
"This event is probably one of the hardest tournaments our players have entered, with countries being allowed to enter two judoka in each weight category.
"We are really pleased with the team's performance here and they have gained invaluable experience which will help them develop and prepare for the Europeans later this year and the 2012 Paralympics."