GB Paralympian Abdi Jama grateful for basketball chance
By Elizabeth Hudson
BBC Sport
Last updated on .From the section Disability Sport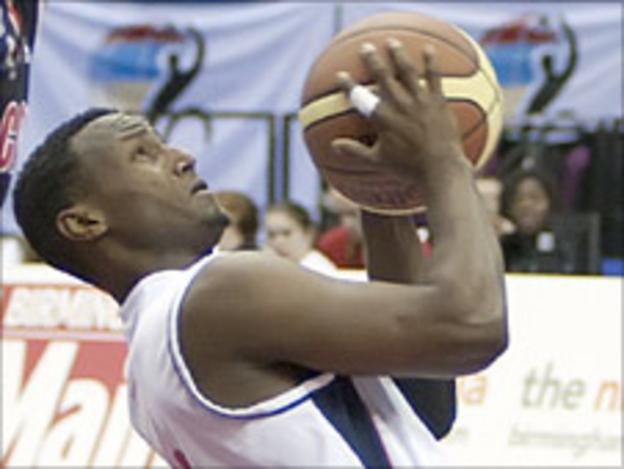 Great Britain wheelchair basketball player Abdi Jama admits that the sport has saved him from going down a potentially dangerous path.
The 28-year-old was born in Somalia but moved to Toxteth in Liverpool, when he was six.
One of 32 children - his father had five wives - he fell out of a window in a freak accident and suffered a spinal injury that left him in a wheelchair.
But having been introduced to basketball by now Great Britain team-mate Ade Orogbemi, the sport has proved his saving grace and Jama remains grateful for the opportunities it has given him.
"I have friends from where I grew up who are in jail at the moment and if it wasn't for the accident and getting involved in basketball I probably would be where they are," he told BBC Sport.
"I try not to take things for granted and I'm grateful for what I get and what I achieve and I try to do the best I can to achieve the most I can in the sport.
"I played basketball before my accident but I didn't know that you could play wheelchair basketball.
"After the accident, Ade came to a PE lesson at my school and asked me to come along and play.
"I said it was for sissies but about six months later I went to a training session at the Greenbank team in Liverpool and as soon as I got in the chair I just felt so confident and happy to be playing.
"I loved it from there and that was it. But never in a million years did I think I would be representing my country and playing in the Paralympics."
Since making his senior debut in 2006 at the Paralympic World Cup in Manchester, Jama has been a key member of the GB team and was part of the bronze-medal winning team at the Beijing Paralympics in 2008.
Now playing with the Wolverhampton Rhinos, alongside fellow internationals Matt Byrne, Jon Hall and Joe Bestwick, Jama previously spent three years playing in Italy and also some time in Perth, Australia.
In wheelchair basketball, every player is assigned a point value based on their functional ability, from 0.5 (the most severely disabled) to 4.5, and the total on-court point value for each team should not exceed 14 during play.
Jama is one of the few 1.0 players in the GB set-up and his versatility is important to the team and increases coach Murray Treseder's on-court options.
"When I first got into the GB team I was just a skinny little kid but I've muscled up and got stronger because you have to take the hits in the sport," he said.
"On the court I play different roles and I think I'm a good all-round player.
"You can't just focus on one element of the game. We have to play defence and offence and I'm also comfortable handling the ball."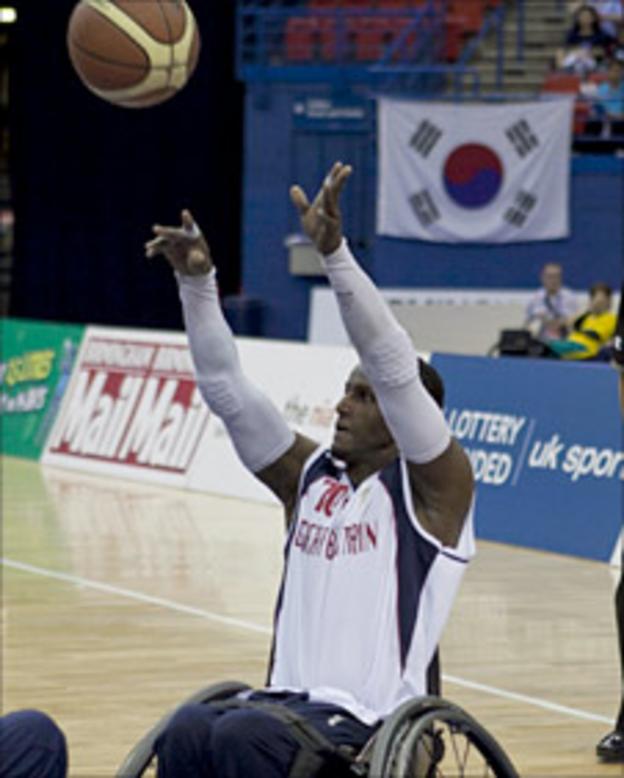 The team are preparing to take on Canada, France and Brazil at this week's Paralympic World Cup while the GB women face Canada, Germany and Japan.
As well as basketball, the event, which runs until Saturday, also includes athletics and swimming with demonstrations events of both boccia and sitting volleyball.
But while Jama is looking forward to competing in front of a home crowd, he and the rest of the GB team know that there are bigger challenges on the horizon.
They travel to Israel in September for the European Championships ahead of the biggest event in their history next year at the London Paralympics.
Having finished out of the medals at last year's World Championships in Birmingham following a shock quarter-final loss to France, Jama knows the team need a big performance in Israel if they are to win a first European title.
"Last year's disappointment has definitely made us more hungry to win the Europeans this year," he said.
"We have a lot of talented and young players in the squad and everyone is hungry to win.
"If you can win one tournament you want to keep that winning mentality going and your confidence is higher so you feel more relaxed when you get to another final.
"I think if we can win the Europeans it would be a great stepping stone to 2012 and would make us favourites for gold in London.
"At the Worlds last year we were in the right shape and we should have reached the final but we had one bad game which cost us - and it was our only defeat in the tournament and we want to put that behind us."