Britain's Special Olympics athletes undergo divisioning
By Paul Bradley
BBC Sport Scotland
Last updated on .From the section Disability Sport
I'm often asked by people in the media, who are unaware of the workings of the Special Olympics, "Who are our best hopes for medals?"
This is a very hard question to answer because, in truth, no-one really knows for sure.
The athletes are continually working to better their performance and it's not a cliché to say that they are working against themselves as much as others.
This is due to a unique process that the organisation calls "divisioning".
Divisioning is a process that takes place in advance of the actual competing for medals to group athletes of similar abilities together.
Lesley Whitehead, Team GB tennis head coach, told me: "Players are grouped on their tennis ability rather than their disability, contrary to the system used in the Paralympics.
"Over three days the team plays short matches against those of a similar standard and are then ranked before competition gets under way with the hope that it is as fair as possible."
This system is used across all of the disciplines of the Special Olympics, not just tennis.
It is also a reason why a lot of people I speak to about the games assume that hundreds of medals are handed out at random just for turning up or participating.
Believe me, they are not.
Yes, there are a lot of medals issued, but that's because there are a lot of divisions within each sport.
Every time a special Olympian takes to the field, he or she is fighting against their own past performances.
In some respects they are punished by beating a personal best as it may mean a rise in division, but in my experience in speaking to the athletes, that's fine.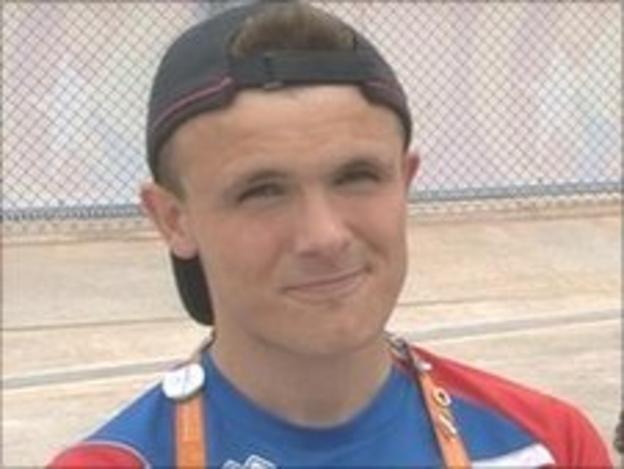 Dr Timothy Shriver, CEO of Special Olympics International told me: "People with learning disabilities are so accustomed to having to fight their way for respect and dignity that it comes naturally, they have the spirit.
"They know that life isn't always going to be that easy, but they also know they don't have to give up."
And, so, the athletes continue to do their personal best every time they take part.
Lucy Porteous, a tennis player from Kelso, said: "I'm looking forward for divisioning to be over and getting into competition."
Her team member Shain Lewis from Wales added: "I'm happy with my divisioning so far; I've won one and lost one, but I did the best I could."
In an earlier article by my colleague Joe Wilson, 'Britain's forgotten Olympians', concerning the funding of the Special Olympic organisation in the UK, he revealed that there is no Lottery funding for the team, which is believed to be due to the games not being considered elite sport.
I spoke to Team GB's head of delegation Gordon McCormack and asked him what his definition of elite sport was.
"Is it to strive against the best of your peers at the highest possible level you can gather from a competition open to the world?" said McCormack.
"I'll leave it to you to decide."
I know what my answer is - and I also know the answer I would get from the athletes and their family members.