Paralympic sailors Rickham & Birrell win world title
Last updated on .From the section Disability Sport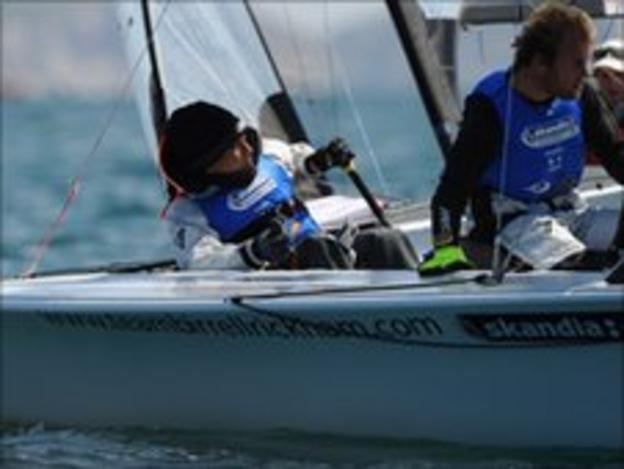 British pair Alexandra Rickham and Niki Birrell won their third Skud-18 world title with a day to spare at the IFDS Disabled Sailing World Championships in Weymouth.
They built up an unassailable lead in the two-person keelboat class after finishing second in round nine, before a fourth place in Thursday's round.
American pair Jennifer French and Jean-Paul Creignou could yet go level on points with Rickham and Birrell.
But the GB team have a superior number of race victories.
"It's amazing - there are just no other words," said Rickham after the race. "It's our third Worlds, and this is definitely the one Niki and I wanted more than anything else.
"To win, on home waters, at the 2012 venue is just perfect and everything we could have asked for."
Birrell added: "I'm just so relieved really. We've been leading it from virtually the first boat length of the week and I think we've done enough now, so we can just chill out now and enjoy the sail in the big breeze on Friday."
The varied conditions have tested the pair but Birrell believes it can only stand them in good stead ahead of next year's Games.
"I just hope the selectors have picked up on the results and they like them," he said.
"That's the most important thing of these two events - we've won three worlds, we've won all the events pretty much, we just want to win the Games next year now.
"The focus now will switch to how can we go quicker, how can we be better, and how can we win the Games with two races to spare."
British sailors could still land medals in the other two Paralympic classes which conclude on Friday.
In the three-person Sonar class, Great Britain's John Robertson, Hannah Stodel and Steve Thomas lead by seven points going into the final day but the Norwegian, French and Israeli teams all remain in the medal hunt.
Although Dutch sailors took gold and silver in the single-handed 2.4m class, Britain's Helena Lucas lies in third with Megan Pascoe in sixth.