GB Sonar crew miss out on gold in Weymouth
Last updated on .From the section Disability Sport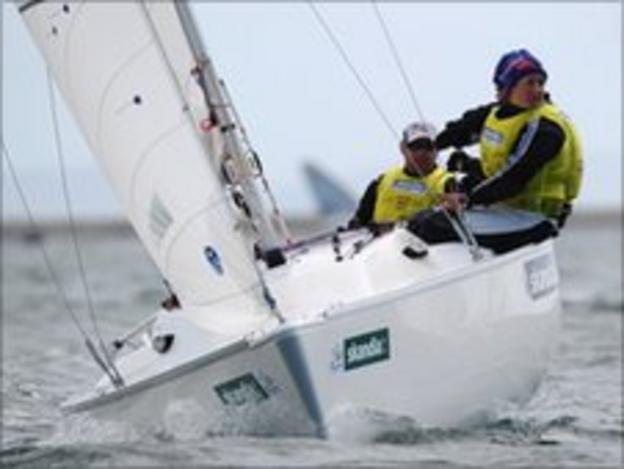 Great Britain's Sonar crew missed out on gold at the IFDS World Championships in Weymouth and Portland after a failed protest against Israel.
John Robertson, Hannah Stodel and Steve Thomas had to be content with silver.
Helena Lucas also won bronze in the 2.4mR class to add to Alex Rickham and Niki Birrell's gold in the Skud class which they secured on Thursday.
Strong winds meant there was no action on Friday so overnight positions were declared final results.
Following the decision to reinstate the Israeli team after a race infringement on Thursday - a decision which put them four points clear at the top of the leaderboard - the British crew protested that the 2004 Paralympic champions had film equipment on their boat, an alleged infringement of the class rules.
The protest was upheld by the jury, who found that the presence of the video camera did breach the class rule, but they imposed no penalty and recommended that the class rules should be reviewed for future events.
The British boat's subsequent request for redress against a start infringement decision was also dismissed, meaning Israel won gold.
"It is not ideal, but a medal's a medal - we're still going in the right direction," said Stodel, whose team also missed out on gold at last year's World Championships through a last-minute protest.
"Morally, we know we're right so we've got everything to play for. We played the game fairly. Surely if we get all the bad luck out of the way now then next year will be easy.
"I think people are scared of us again, which we love. We sailed consistently and we're going to be the team to have a look at next year."
Lucas was pleased with her performance at the 2012 Paralympic venue where fellow Briton Megan Pascoe finished sixth.
"It's brilliant to medal in the venue - it gives you so much confidence. Hopefully if I get selected and I'm here competing in 2012 you know you've done it once," she said.
"There's loads of mistakes that were made and things like that, so it's a good thing that I know that I can go away and there's lots of things to work on and get better. It's really encouraging for the future."