With a year to go to the London Paralympics, the excitement is building around the event which will run from 29 August-9 September 2012.
Hopes are high for British success after the team finished second behind hosts China in Beijing in 2008 - the fourth summer Games in a row that GB were runners-up in the medal table.
But there will also be a host of international names hoping to finish on top of the podium in London.
BBC Paralympic sports reporter Elizabeth Hudson profiles some of those going for gold in London while 11-time Paralympic champion Baroness Tanni Grey-Thompson gives her verdict on their chances.
OSCAR PISTORIUS (ATHLETICS)
The South African double amputee already has four Paralympic golds to his name but has his sights set on more success both at Paralympic and able-bodied level.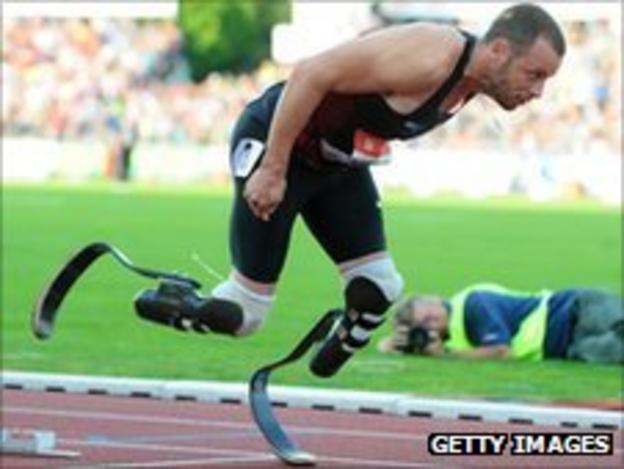 Born without fibula in both legs, his legs were amputated when he was 11 months old and he runs using carbon-fibre cheetah blades.
In 2008 after a lengthy court battle he was cleared by athletics's governing body the IAAF to compete against able-bodied rivals.
He has just become the first amputee to compete at the World Championships, winning a relay silver and has set his sights on competing at both the Olympic and Paralympic Games next year.
Debate remains over how much of an advantage Pistorius gets from his blades but while he is unbeatable at Paralympic level at 200 and 400m, American Jerome Singleton will be making sure he can do all he can to get the better of the South African in the 100m after beating him at this year's World Championships.
Tanni Grey-Thompson's verdict: Not just well known around the world, but in many cases probably better known than the Paralympic movement. A strong advocate for the sport, the best events to watch him compete in at the Paralympics will be the 100m and the relays, because this is where the competition is the closest. He has an engaging personality, and the progress he has made in his sport this year has been tremendous.
SARAH STOREY (CYCLING)
After a successful Paralympic swimming career with 16 medals to her name, Storey, who was born with a deformed left hand, switched to cycling in 2005 and has achieved yet more success for Britain both on the track and on the road.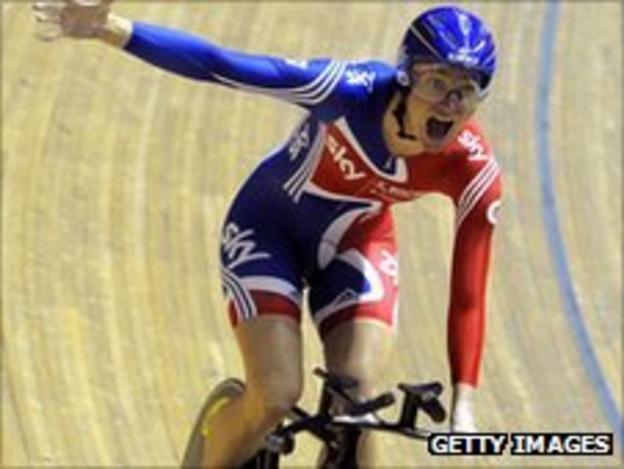 In Beijing she won double gold - claiming victory in the individual pursuit on the track in a time that would have seen her finish in the top eight at the Olympic final - and also the road time-trial
She travels to this week's Para-Cycling Road World Championships in Denmark hoping to retain the time-trial and road-race titles she won in both 2009 and 2010.
Storey also rode for the winning Great Britain able-bodied team pursuit team in March's World Cup in Manchester and harbours hopes of competing in both the Olympic and Paralympic Games next year.
Tanni Grey-Thompson's verdict: It seems a long time ago that I sat with a then 14-year-old Sarah Storey (then Bailey) outside the accomodation block in Barcelona, doing an interview for Newsround! I would never wish injury on any athlete, but the ear infection that precipitated her move to cycling was probably the best thing to happen to her. I would love to see her compete in both the Olympics and the Paralympics and to add to her medal tally.
ESTHER VERGEER (WHEELCHAIR TENNIS)
Vergeer is the undisputed golden girl of wheelchair tennis - the sport's dominant figure with a host of honours to her name.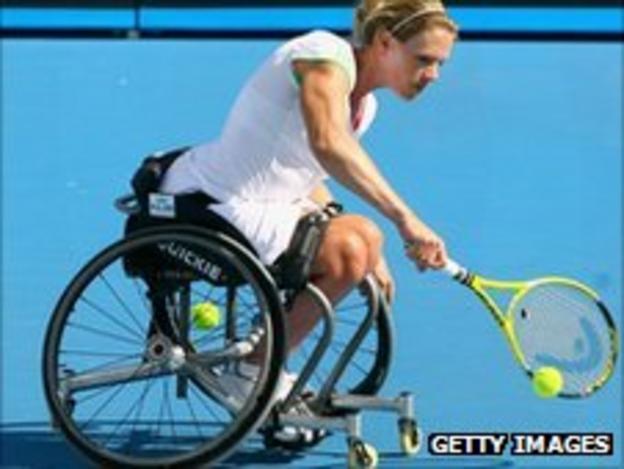 The Dutchwoman was left paralysed aged eight following a medical procedure and as well as tennis was a talented wheelchair basketball player, representing her country aged aged 16 before concentrating on tennis from 1998.
She became world number one a year later and her skill and tenacity has seen her win her last 422 singles matches with her last defeat coming back in January 2003 to Australian Daniela Di Toro and she goes in search of another title at this week's US Open at Flushing Meadows.
Over her career she has won 150 singles titles, including 18 Grand Slams and three Paralympic titles, and her appetite for victory shows no sign of diminishing.
Tanni Grey-Thompson's verdict: Esther has watched other female tennis players come and go and her dominance has never really been in doubt. Although we all just expect her to win, she has never taken her ability for granted. The woman who eventually defeats her will be someone special indeed and although I am not willing it to happen, I hope I can be there to watch.
DANI BROWN (ARCHERY)
Law graduate Brown was a keen fell runner before being diagnosed as a teenager with a condition called reflex sympathetic dystrophy, which results in constant pain in her feet.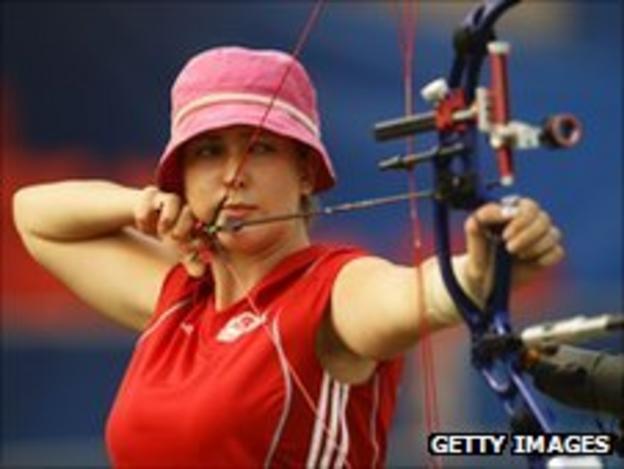 In a bid to stay active, she took up archery where her condition means she shoots seated on a stool.
The 23-year-old is the current European, World and Paralympic champion in the compound category, most recently retaining her World title in Turin in July and winning silver in the women's team and mixed team competition, although neither of these are 2012 events.
Last year she created history by becoming the first English Paralympian to compete at an able-bodied Commonwealth event, winning team gold in the compound event and is the proud holder of a gold Blue Peter badge.
Tanni Grey-Thompson's verdict: Archery is a Paralympic sport that has struggled for media coverage in the mainstream media over the years, despite success in the sport at major Games. Danielle competing in the Commonwealth Games in Delhi did tremendous good for the sport and it opened up a sport to me that to be honest I have not watched a lot. I would now.
TOM AGGAR (ROWING)
A former rugby player with Saracens and Warwick University, Aggar's life was changed completely in 2005 when he suffered a serious spinal injury in an accident and was left paralysed.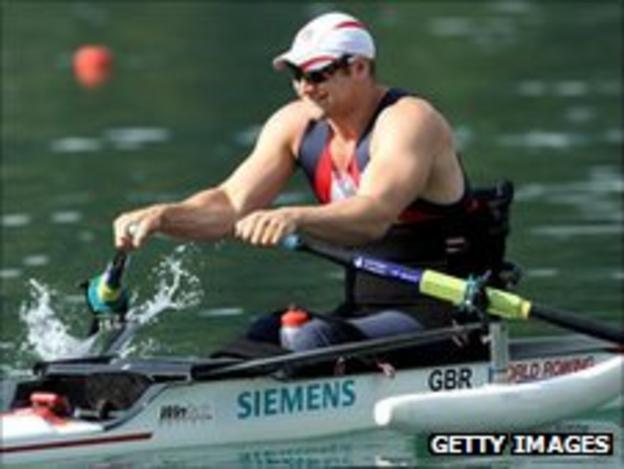 Since taking up rowing in 2006, primarily to keep fit, his strength and power have led him to become the world's leading figure in his single sculls class.
Aggar is unbeaten at World Championship level, winning gold in 2007, 2009 and 2010 and won his fourth gold last week in Slovenia to maintain his impressive record.
Last year the 27-year-old was named world adaptive crew of the year with the citation from the sport's governing body Fisa saying he had "set the standard in adaptive rowing."
He also won the inaugural Paralympic gold in the men's single sculls event in Beijing and will be strong favourite to retain his title next year on the Eton Dorney rowing lake.
Tanni Grey-Thompson's verdict: With rowing making its debut in Beijing, no one would doubt that the sport would do everything that it could to put on a good show to follow what the Olympic programme has achieved. It was a relatively quick transition from injury to GB, but Tom proves that if you have the right genes, talent and work really hard you can make it
DARREN KENNY (CYCLING)
A keen cyclist during his younger days, Kenny suffered an accident during the 1988 Junior Tour of Ireland which cut short his able-bodied cycling career.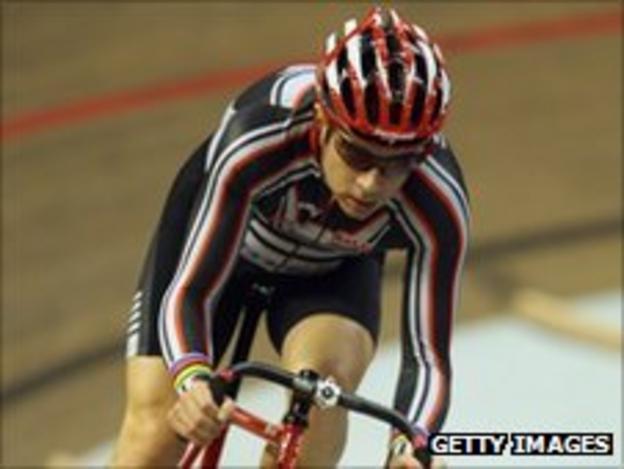 He began racing again in 2000 to keep fit and in 2002 joined the GB Para-Cycling team.
Kenny made his Paralympic debut in Athens in 2004 where he won two golds and a silver and broke two world records. Since then he has performed consistently at major championships, winning a host of medals at world and European championships.
In Beijing he was one of the stars of the successful British cycling team, winning four golds and one silver.
In March, he won three golds at the Para-Cycling Track World Championships in Italy and will be hoping for more success in this week's Road World Championships.
Tanni Grey-Thompson's verdict: I always think about Darren as being one of the quiet ones on the cycling squad, but if you look at his track record it is littered with gold. He helped lead the way in terms of cycling success - no doubt his early years riding in the mainstream of the sport helped him. His gold medal in the kilo was one of the only events I got to watch at the Athens Games, and even that was on the TV in our apartment!
SUSIE RODGERS (SWIMMING)
The 27-year-old, who was born in Stockton-on-Tees but now lives in London, has been swimming for many years but has started to take the sport more seriously after being inspired by watching the likes of Ellie Simmonds at the Beijing Paralympics - and the decision is paying dividends.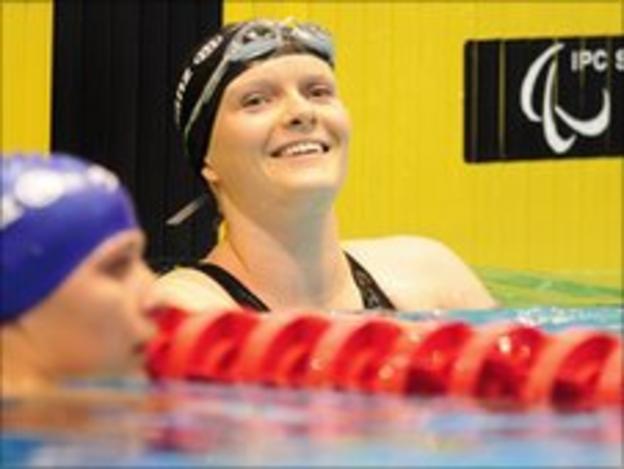 Born with a deformed arm and leg, Rodgers is one of the few members of the swimming team who is not currently a full-time athlete and combines training with her work as a Project Officer for the British Council in London.
She made her major international debut at this year's IPC European Championships and was one of the stars of the successful British team, winning five individual golds and a relay gold.
But Rodgers will face a major step up in London next year, not least against American Mallory Weggemann, who also swims in her S7 class and won seven gold medals at the recent Pan Pacific Para-Swimming Championships.
Tanni Grey-Thompson's verdict: As a relative newcomer to the sport she has burst on to the scene with perfect timing for next year. She was born about three miles away from where I live, so I am always happy to support 'local' athletes. Although it will be a step up for her next year, she will have so much confidence from what she has already done.
NATALIE DU TOIT (SWIMMING)
The London 2012 Games will be the swansong for the South African star who lost her leg in a motorcycle accident in 2001 aged 17.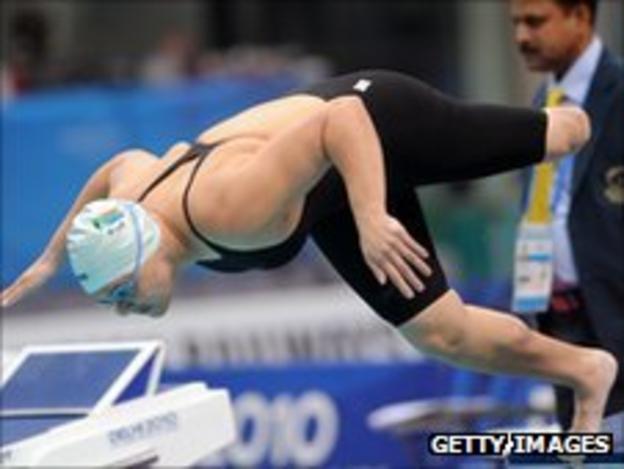 She first came to prominence at the 2002 Commonwealth Games in Manchester where she reached the final of the able-bodied 800m freestyle as well as winning two golds in the races for elite disabled athletes.
Since then she has dominated her S9 category, winning 10 Paralympic gold medals and also becoming the first amputee to compete at the Olympics.
Her strength and skill come to the fore over the longer distances but she admits to finding it more difficult in the speed events and was beaten to gold by Britain's Louise Watkin in the 50m freestyle at last year's World Championships.
But come London, Du Toit will be hoping to once again compete in both the Olympics and Paralympics and end her career on a high.
Tanni Grey-Thompson's verdict: Her achievements in competing in both the Beijing Olympics and Paralympics have probably been overshadowed by her South African team mate Oscar Pistorius. Natalie is quiet, unassuming and gets on with what she has to do. She has already said that she wants to go for seven Paralympic golds in London. It seems infinitely possible that she could do it.
SIMON MUNN (WHEELCHAIR BASKETBALL)
Munn is one of the mainstays of the GB wheelchair basketball team - now known as the Bulldogs - since coming to the sport after losing his left leg in a train accident.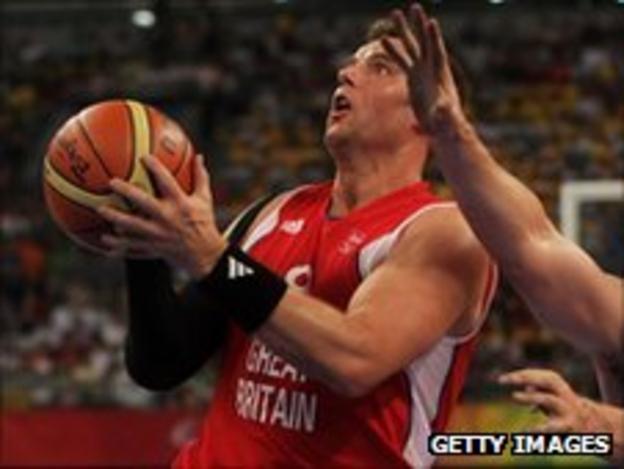 The 43-year-old made his Paralympic debut in Barcelona in 1992 and is now hoping to compete in his sixth Games in London next year.
Munn has also had spells playing professionally in Italy and his skill and strength under the basket as well as his scoring power are key to the GB cause,
A winner of a silver medal in Atlanta in 1996 and bronzes in Athens in 2004 and Beijing in 2008, Munn, who plans to retire after the 2012 Games, would like nothing more than to go out on a high with gold.
Tanni Grey-Thompson's verdict: Simon is someone who I seem to have known for many years. I hesitate to call him a stalwart of the British team, but he has lasted through many changes over that time. He makes scoring look easy, which always signifies how hard it really is, and a gold medal would crown his career.
TATYANA MCFADDEN (ATHLETICS)
Born in Russia paralysed below the waist and with spina bifida, McFadden began her life in an orphanage and spent the first six years of her life using her arms as legs and using her hands as feet.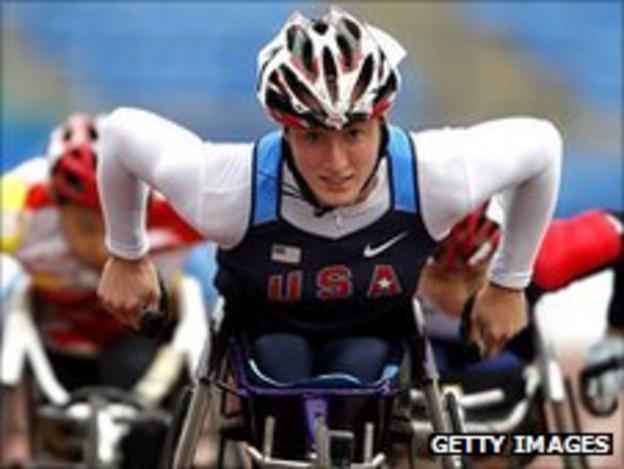 But in 1994, she was adopted by American woman Debbie McFadden and brought to the United States where sport, and particularly wheelchair racing, became an important part of her rehabilitation.
She made her Paralympic debut in Athens aged 15, winning a silver and a bronze but two years later marked herself out as one to watch with a gold medal in the 100m at the World Championships in the Netherlands.
In Beijing she came away with three silvers and a bronze (finishing behind the now-retired Chantal Petitclerc each time) but at this year's World Championships in New Zealand dominated with four golds, and a bronze and the 22-year-old looks like being one of the stars on the track in London.
Tanni Grey-Thompson's verdict: I first saw her compete at the age of 15, with the maturity of a 25-year-old. Athens was an easy first Games and she has made consistent progress since then and is the most likely athlete on the circuit to be able to match Chantal Peticlerc's five gold medals at a Games. Her life off the track is fascinating. A strong advocate for inclusive sport and disability rights, even in her early twenties, it feels like athletics is a stepping stone to something much greater.