Libby Clegg driven by gold medal dream at London 2012
By Rachel Stringer
BBC Kick-off
Last updated on .From the section Disability Sport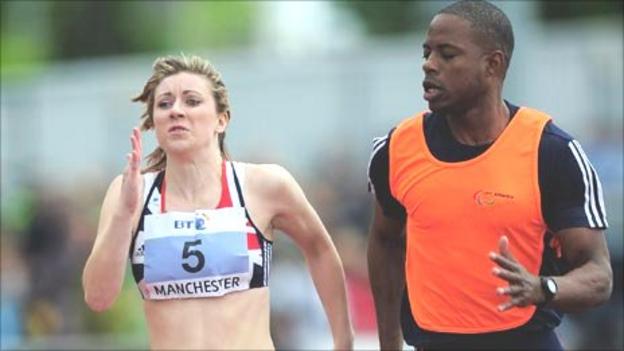 Paralympic sprinter Libby Clegg is hoping to go one better than her silver medal from Beijing three years ago and win gold in London 2012.
The 21-year old, who has a degenerative eye condition meaning she only has slight peripheral vision in her left eye, will compete in the T12 100m and 200m events for the visually impaired.
The Loughborough-based athlete told BBC Radio Leicester: "I chose to come to Loughborough as I knew if I wanted to win in London then this would be the place to train."
As a nine-year old, Clegg was diagnosed with a condition called Stargardt's Macular Dystrophy, a disease which slowly takes the sight away.
Clegg now has no central vision and is not the only member of her family to be affected.
She added: "I have a sister and two younger brothers, and my two younger brothers have the eye condition as well. It's very unfortunate, one in four of us were meant to get the condition and three out of the four of us have.
"It can be quite difficult sometimes, I have trouble reading, but I don't really let things bother me."
As a T12 visually impaired track athlete Clegg has the option to run with a guide runner.
Lincoln Asquith has been Clegg's guide during her career but she has also recently been helped by Asquith's step son Mikail Huggins.
The trio have so far proved to be an effective team with Huggins helping her win gold in the 100m and Asquith guiding her to bronze in the 200m at the IPC World Championships in New Zealand in January.
And Clegg is now determined to add to her medal collection in London next year.
She said: "I would like to achieve a medal position, hopefully a gold one."