London 2012 gold on Rushgrove agenda
By Tom Herbert
BBC Kick Off reporter
Last updated on .From the section Disability Sport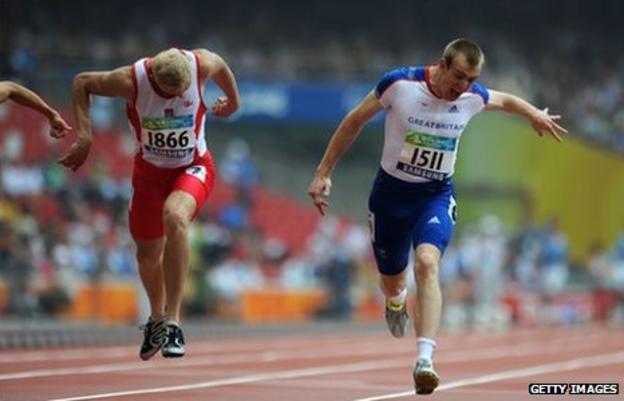 Bath sprinter Ben Rushgrove believes he is ready to challenge for a gold medal in the London 2012 Paralympic Games.
The 23-year-old won 100m silver and 200m bronze at the World Championships in January and claimed 100m silver at Beijing 2008, despite competing with a broken bone in his foot.
"I make no secrets about it, I want the gold medal," he told BBC Radio Bristol.
"I'm doing everything within my power to make sure that I'm in the best possible shape I can be in."
He added: "But games are unpredictable things and we have to wait and see what happens."
Rushgrove, who has cerebral palsy and competes in the T36 classification of events, has recently been part of a simulation camp held by Paralympics GB in Bath, where athletes have been coming together to train and acclimatise to living and working as a team.
The former Bath University student feels that these camps are extremely useful in helping athletes prepare both physically and mentally for what is likely to be the biggest challenge of their lives.
"As athletes our job is to compete in major international competitions, and anything which allows us to be calm and familiar with our surroundings is always a good thing," said Rushgrove.
"I got back from the World Championships in New Zealand at the beginning of the year, and I came second.
"The guy who came third was behind me by one one-hundredth of a second - that's quicker than you can blink - and the difference between that one one-hundredth of a second is entirely psychological, entirely mental.
"Psychology is incredibly important, and it goes back to the reason we're here in Bath, to prepare our minds as much as our bodies for what we are about to do."