Paracycling Road Worlds: Britain lose classification dispute with Germany
By Ollie Williams
BBC Sport in Roskilde, Denmark
Last updated on .From the section Disability Sport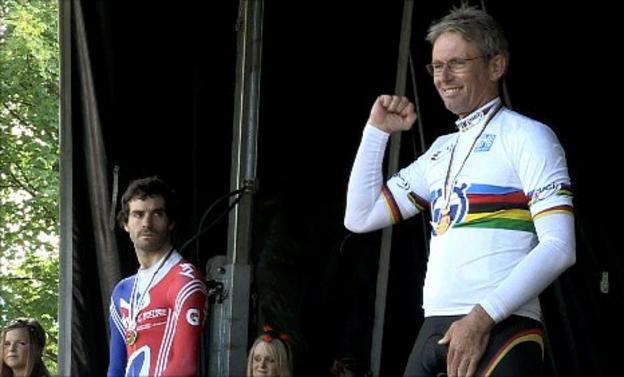 David Stone surrendered his Paracycling world time trial title after a British protest against this year's winner, Germany's Hans-Peter Durst, failed.
Durst complete the Danish course in the fastest time but the GB team argued his classification had been incorrect.
World governing body the UCI rejected Britain's claims and Paralympic champion Stone must settle for silver.
"I see it as a good thing. The German will offer me something to chase and beat at the Paralympics," said Stone.
"A few months ago I was almost asking for a new challenge - when you're always winning you start to get a bit bored.
"You need a challenge and, deep down, I was asking for that challenge. When I do beat him, it'll feel good and I'm very confident that will happen at the Paralympics."
Stone is the defending Paralympic champion and won last year's world time trial title, but a crash three weeks ago marred his preparation for this year's event in the Danish town of Roskilde.
Durst, a paratriathlete who only received his paracycling classification - the means by which athletes are grouped according to their ability and impairment - several days ago, completed the course in 26 minutes 50.64 seconds, 22 seconds ahead of Stone.
The British team felt Durst's paratriathlon history suggested his classification might not be accurate, and that his result should not stand, but the UCI classifiers disagreed after a further assessment of Durst.
"I don't know how I feel about silver. I feel very happy with my performance, I know I gave everything," Stone told BBC Sport's Tanni Grey-Thompson.
"I think it's very important to check [the classification]. But he's in this category and now it's about getting on with it.
"I thought the German would beat me by over a minute and I know I'm so much better than I was today, so it isn't an issue. Give me another month and I'd make those 22 seconds back."
"I'm not worried about it," said Durst of the British protest. "It's their job. They can see everything and I'm always open with all the details and certifications, or whatever.
"This is always a problem in our sport. It's always a question of fairness and I don't know how you can do it better."
Elsewhere on Friday, Britain's Lora Turnham finished ninth in her time trial race alongside pilot Louise Haston, while team-mate Jody Cundy - normally a track cyclist - took 12th place in his event.