Chantal Petitclerc to join GB Paralympic athletics team as coach
Last updated on .From the section Disability Sport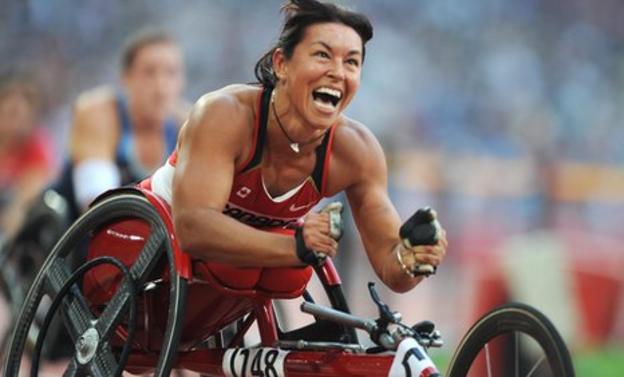 The 14-time Paralympic gold medallist Chantal Petitclerc will join the British athletic team as a coach and mentor for the 2012 London Paralympics.
The 41-year-old Canadian competed at five Paralympics before retiring after the 2008 Beijing Games.
She will work directly with Britain's wheelchair racers alongside her own former coach Peter Eriksson, who is UK Athletics' Paralympic head coach
She will attend preparation camps and competitions from January 2012.
Petitclerc made her Paralympic debut in Barcelona in 1992, winning two bronzes, and went on to win a total of 21 Paralympic Games medals in distances from 100m to 1500m.
"I have a great passion for the sport and as an athlete I wanted to be the best in the world," she said.
"As a coach, I also want to work with the best in the world and I think that Peter and I, as well as the rest of the staff, share a real determination to succeed.
"I hope that in addition to offering advice in preparation and competition based on my own experiences, I can also share some of what I've learned along the way to help motivate and inspire our athletes to be the best they can be."
Eriksson added: "In addition to building the best possible squad of athletes, we need to have a top-class coaching team in place and with the addition of Chantal I think we're making that happen.
"Not only can she offer first-rate coaching advice, but she can motivate, inspire and guide our athletes after a successful and lengthy career of her own."
Britain finished 18th in the athletics medal table in Beijing with Dave Weir winning their only golds, but under Eriksson's guidance they were third at this year's IPC World Championships in New Zealand.