GB Paralympic swimmers target 2012 Games spots
By Elizabeth Hudson
BBC Paralympic sports reporter
Last updated on .From the section Disability Sport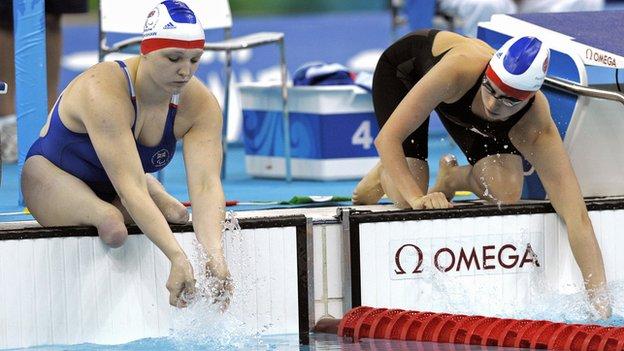 Britain's Paralympic swimming hopefuls have their last opportunity to book their London 2012 places at this weekend's trials in Sheffield.
The British International Championships are the second chance for swimmers to secure qualifying times following last month's trials in London.
Twenty nine reached the qualifying standard at the new Aquatics Centre.
Those still to secure their places include defending Paralympic champions Dave Roberts and Liz Johnson.
Roberts, who is currently equal with Baroness Tanni Grey-Thompson on 11 Paralympic gold medals, missed the London trials through illness.
The Welshman was also forced to miss last year's European Championships in Berlin with an arm injury.
And he needs a big performance in the 50m and 100m freestyle events in Sheffield as he bids to compete in his fourth Games and have a chance of becoming Britain's most successful Paralympian of modern times.
Both Johnson and her 100m breaststroke rival Charlotte Henshaw, who were first and second in their SB6 category in Berlin, missed the qualifying standard in London by a couple of seconds and will need to improve on that when the action begins in Sheffield on Friday.
"We set the nominations standards for the time of the third fastest in the world plus 2% so we know when our athletes make those times they have a good opportunity to improve and get close to medals come London," national performance director John Atkinson told BBC Sport.
"Between those who have already reached the standard and with another 10 or so swimmers a second or so off the standards we think we are well positioned to have a team of over 40 athletes, which was what we were expecting.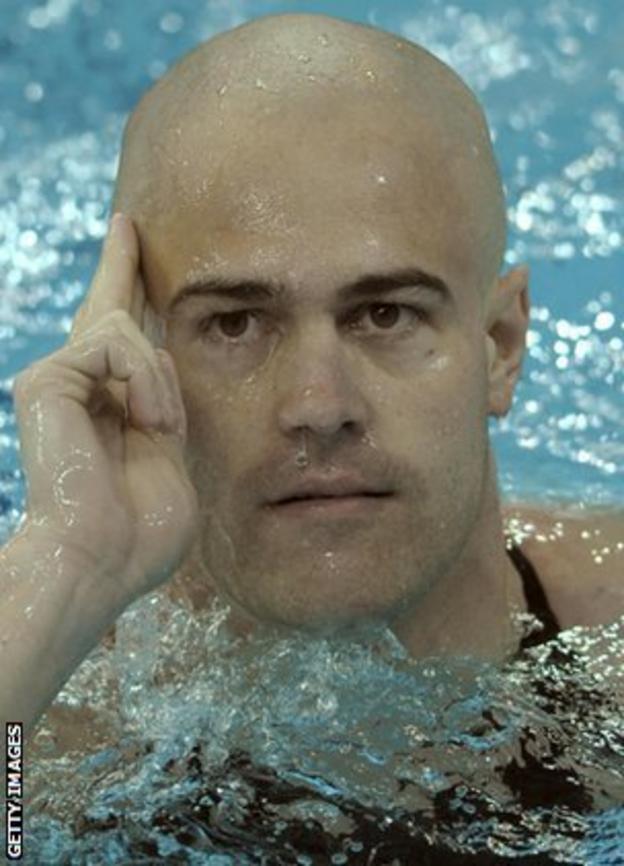 "When an athlete has been to a Games there is expectation on them and different pressure than on new athletes.
"Dave has had a tremendous Paralympic record but he has had a really hard two years and the last time he raced internationally was at the 2010 World Championships in Eindhoven.
"It is a big task but we know he is a great racer and I wouldn't discount him achieving anything.
"Charlotte and Liz have been working hard over the last six months and I think they were both just under 2% outside the standards they needed.
"But I know they have reviewed their performances in London with their coaches and refocused their sights on Sheffield and both have swum times previously."
If swimmers do not make the qualifying times, Atkinson and his fellow selectors will look at their performances at the trials and see where they fit within the published selection criteria and their medal-winning potential in London before the first phase of selections is announced early next week.
Swimmers who have already achieved the qualifying standards
Matt Whorwood (S6 400m free), Matt Walker (S7 50 freestyle), Sascha Kindred (SM6 200m IM, SB7 100m breast), Jonathan Fox (S7 400m free, 100m back), Oliver Hynd (S8 400m free), Sam Hynd (S8 400m free), Tom Young (S8 400m free, 100m back), Rob Welbourn (S10 400m free) James Crisp (S9 100m back), Ben Procter (S14 200m free), Craig Rodgie (S14 200m free), Dan Pepper (S14 200m free), Aaron Moores (S14 100m back)
Nyree Kindred (S6 100m back) Ellie Simmonds (S6 50m free, 100m free, 400m free, 200m IM), Natalie Jones (S6 100m free, 400m free, 200m IM), Susie Rodgers (S7 100m free, 400m free, 100m back, 50m fly) Heather Frederiksen (S8 100m free, 400m free, 100m back) Emma Hollis (S8 400m free) Louise Watkin (S9 50m free, 100m free, 200m IM), Stephanie Millward (S9 400m free, 100m back, 100m fly), Claire Cashmore (SB8 100m breast, SM9 200m IM), Harriet Lee (SB9 100m breast), Gemma Almond (SM10 IM), Hannah Russell (S12 100m free, 400m free, 100m back, 100m fly), Rhiannon Henry (S13 100m free, 200m IM), Jessica Applegate (S14 200m free), Natalie Massey (S14 200m free), Chloe Davies (S14 200m free).