London 2012: GB Boccia team eye profile boost ahead of Paralympics
By Elizabeth Hudson
BBC Sport's Paralympic sports reporter
Last updated on .From the section Disability Sport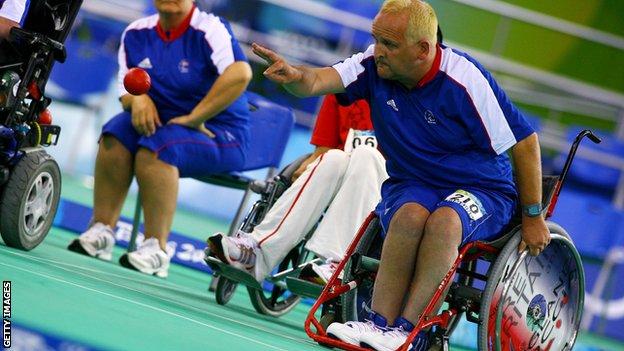 The GB boccia team is hopeful that their Paralympic test event success and an appearance at this month's Paralympic World Cup in Manchester can help boost the sport's profile ahead of London 2012.
The team secured five medals at the Olympic Park event, which ended on Monday, and with the Paralympic squad already named, they are in confident mood.
The sport, unique to the Paralympic movement, is played by wheelchair athletes who have conditions - including cerebral palsy or muscular dystrophy - which affect their movements.
Similar to boules, it combines skill, tactics and precision as players propel balls (either by rolling, throwing or kicking) so they finish as close as possible to a white target ball.
Britain has enjoyed Paralympic success with Nigel Murray winning individual gold in Sydney and individual silver in Beijing before teaming up with David Smith, Dan Bentley and Zoe Robinson for team gold, and the quartet will all be part of the nine-strong squad in London.
But Murray, the veteran of the squad at 48 who says London will be his fourth and final Paralympics, believes the sport must make the most of its time in the spotlight.
"Boccia may not get the media coverage that a lot of other high-profile sports like athletics, swimming or wheelchair basketball get, which are seen as more sexy and glamorous," he told BBC Sport.
"But it is one of the most popular sports for disabled people and because it is played by people who have greater physical disabilities and who can't play a lot of other Paralympic sports, it is an important avenue for them into elite sport and gives a great opportunity to play at the highest level.
"It's essential that boccia remains part of the Paralympic programme. It has been part of the Games since 1984 so it is well established and it is an important sport within Paralympic circles."
Performance manager Matt Hammond also knows that success in London would help raise awareness of the sport.
"Boccia probably has suffered from a lack of profile in the past and what the sport is looking to do is give itself a better shop window and move forward," he said.
"At the start you may just see it as throwing a ball at another ball but once you start to understand the tactics and the strategy and see how accurate these athletes are, you realise it is a difficult sport."
Murray claimed individual gold in his BC2 category at the test event while there was also gold in the BC1 division for David Smith.
But the major breakthrough came in the BC3 category where players use a ramp to deliver the ball and instruct a sports assistant to position the ramp for each delivery. Here, Welsh player Jacob Thomas, 17, who also won individual bronze, and 20-year-old Jess Hunter won pairs gold to mark themselves out as potential medallists in London.
Both Thomas and Hunter have been fast-tracked through the sport's talent ID programme and, along with Scott McCowan, 20, it means the 2012 squad has a youthful look.
"We haven't qualified a team in the BC3 competition at the Paralympics since 1996," added Murray. "So to have Jacob and Jess winning a medal here shows the tremendous progress they have made and they will certainly be in with a shout of a medal in London."