Ten NI Paralympic hopefuls in contention for London
By Leo McGann
BBC Sport NI
Last updated on .From the section Disability Sport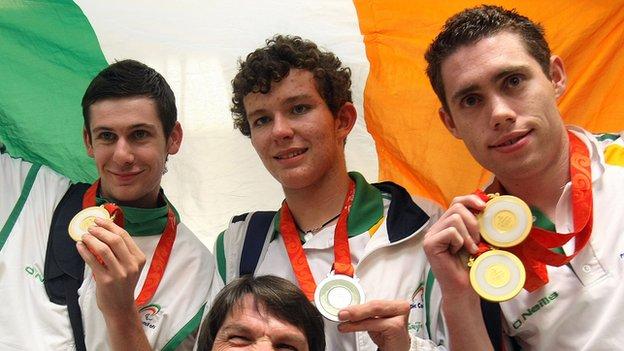 The nights might be cool and the skies grey but summer is almost here and with it comes the spectacle and thrill of London 2012.
Much of the build-up has revolved around the return of the Olympics to the UK capital after 64 years but there is also rising anticipation ahead of London's first Paralympic games.
These will be the biggest ever staged and athletes from Northern Ireland are set to feature prominently.
Ten local athletes are currently in contention to compete: eight for Ireland, and two for Great Britain and Northern Ireland.
Competing for Ireland, Jason Smyth and Michael McKillop are already two of the biggest names in Paralympic sport.
Partially-sighted Smyth won the T13 100 and 200 metres in Beijing and like Oscar Pistorius, hopes to compete in track and field in both games this summer.
Earlier this week, Glengormley's McKillop became the first man to break a world record in the Olympic Stadium and he is the favourite for T37 800 metres and 1500 metres with the metric mile featuring in the London programme - unlike four years ago.
Schoolgirls Bethany Firth and Sally Brown have far less experience but the medals and reputations they have earned in their short careers make them live contenders.
Firth, who is only 15, hopes to represent Ireland in swimming and last year took silver in the S14 200m Freestyle at the European Championships.
Sprinter Brown from Ballykelly, also 15, is one of youngest members of the British squad and won a bronze medal in the T46 200 metres at the 2011 IPC World Championships.
The Irish Team will be announced on 28 June, and that day will make its way to Antrim for a pre-games training camp, the first to take place in Northern Ireland.
The British team, which is likely to number 300-350 compared to Ireland's 40-42, is being announced on a more gradual basis, with 102 named already and the final selection to be confirmed in mid-July.
Liam Harbinson, CEO of Paralympics Ireland, says this year's Irish team will receive unprecedented levels of support from the Irish Sports Council and Sport NI.
"This is at a whole different level than ever before," Harbinson told BBC Sport NI.
"To support the team in Beijing about 80 to 100 people travelled out to China.
"This time each athlete will have around 50 family and friends travelling. Everyone in Ireland will get a chance to see the games."
Harbinson feels that there has been progress since Beijing and that there is more of an interest in disabled sport which the exposure of London will only increase.
"One initiative we ran after Beijing was a programme called Paralliance - purely to try and get young people into a sport suitable to their impairment.
"We ran an event in May 2009 expecting about 50 people to turn up, we had over 400.
"Some of those were fast tracked. We reckon five or six of our team will have been introduced to their sport on that day. We are going to run a similar programme straight after London."
Once an athlete is identified as an international prospect, it's a serious business.
Paralympic athletes receive similar levels of support to their Olympic counterparts and the bodies are as driven for success.
Paralympics Ireland set itself a target of five medals including three golds in London after Beijing but given the strength of the team it might well exceed this.
"In eight events, current world champions will be on the Ireland team," points out Harbinson.
"That eight won't include Jason Smyth who didn't compete in the world championships last year and he would be number one in his two events as well."
Harbinson explains that qualifying standards are extremely demanding.
In the Olympics for Ireland, meeting the A standard, except in rare circumstances, means the athlete is on the plane.
In Paralympics there are likely to be seven places for Athletics and thirteen athletes who have hit the A standard.
"If you qualify, you're in with a shout," adds Harbinson.
Paralympics Ireland work closely with Disability Sports Northern Ireland who are concerned more broadly with the development of sport and physical recreation for people with disabilities, at all levels.
Kevin O'Neill, Disability Sport NI chairman, is a friendly, relaxed figure but his enthusiasm for the Paralympics is clear.
"For individual athletes it's all about winning. For organisations like ours it's about creating role models," says O'Neill.
"Children with disabilities tend not to participate in sports.
"The fact we have 10 athletes potentially at the games, who are very strong, positive representations of people with disabilities will have a massive impact in inspiring younger children to participate initially and then to strive for excellence."
O'Neill believes the profile of this year's Paralympics will demonstrate how far disability sport has come.
"Early games were seen as add-on, some sort of novelty competition. London 2012 will be the most inclusive games ever.
"The public and media treat athletes on par with their mainstream counterparts. A paralympic medal is on par with an Olympic medal and one million tickets have been sold for the Paralympic games."