Terry Bywater column: Paralympic World Cup is a big test for GB
Last updated on .From the section Disability Sport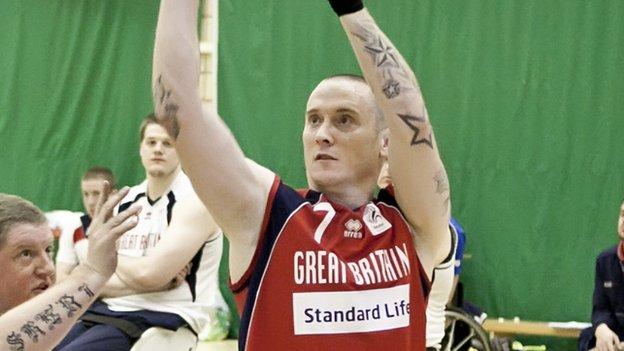 Three-time wheelchair basketball Paralympian Terry Bywater, who is hoping to play in his fourth Games in London, will be regularly sharing his thoughts with the BBC Sport website this summer and here is his first column.
Wheelchair basketball came into my life when I was about 13. I was born without the two main bones in my lower left leg - my tibia and fibula - and, when I was two, my parents made the decision to have the leg amputated.
I was always keen on sport - I'm a big Middlesbrough fan - and I just went along to the wheelchair basketball event at a local sports centre for a bit of fun. When I started playing the sport I just fell in love with it and I've never looked back and I owe the sport a hell of a lot for what it has done for my life.
I had been playing for about a year when I got a call-up to the Great Britain Under-23 team. That was such an honour and from then on I wanted to be a Paralympian.
I started training with the GB men's team in 1999 and made my debut as a 16-year-old, and a year later I made my Paralympic debut in Sydney. Since then, I have played in Athens and Beijing, where I won a bronze medal, so if I am selected, London will be my fourth Games.
But it hasn't always been plain sailing and the last year has been tough.
I broke my wrist in 2004 before the Athens Games and since then I've had trouble with it.
At last year's European Championship in Israel, it caused me quite a lot of pain and it was getting worse and I started to get concerned. I had a big fall on it in the semi-final but the adrenalin and painkillers, and the fact that we won the competition, helped me through.
But a couple of days after I got home, I went to get up off the sofa, put pressure on the wrist and it just collapsed under me. The scans showed there were a number of severe cartilage tears and the surgeon wanted to operate as soon as possible.
Thanks to the help of UK Sport and the English Institute of Sport, I was able to get it seen to quickly and privately. That was a huge weight off my mind with London on the horizon and their support, and that of British Wheelchair Basketball, was key.
I ended up in a cast from my wrist to my bicep for just under three months. Simple things like getting dressed and washed were a complete nightmare and my wife Jodie had to help me - how she didn't divorce me I'll never know.
Although it was great to be able to spend time with Jodie and our son Benjamin, who will be three in July, basketball is my life and not being able to train or play for that amount of time was quite soul destroying at times.
Because I had lost a lot of the strength and muscle in my wrist and arm, one of my goals when I got the cast off was to play at this week's Paralympic World Cup in Manchester.
Personally it is a good stepping stone back to playing at that high level and a great test to see where I am against the best players in the world. It is a big event for us as a team because the squad for London will be selected at the end of it - so it is also a nervous time.
I've played in quite a few Paralympic World Cups, and it is great preparation for the big event later this year.
We will be playing some strong teams this week. The USA are a very talented team and probably the top team in the world right now, we beat Germany in the European Championship final last year and Japan are an up and coming team and we will have to be at our best against them.
With 100 days to go until the start of the Paralympics, I'm feeling very well. I think my time away from the game has had a positive effect on me mentally because the hunger is even greater now having missed so much of the league season and GB training.
As for the physical aspect, I have hit my goals so I think I am well on track.
Terry Bywater was speaking to BBC Sport's Elizabeth Hudson