London 2012: Beijing medallists named in Paralympic squads
Last updated on .From the section Disability Sport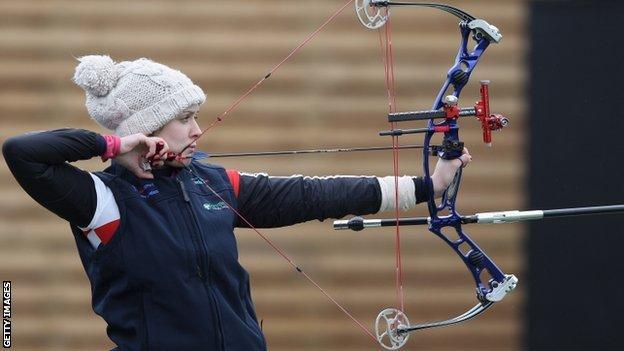 Paralympic archery champions Dani Brown and John Stubbs will both have the chance to defend their titles after being selected for London 2012.
The pair head a 13-strong squad announced on Thursday in Manchester.
Matt Skelhon will also be bidding to make it back-to-back Paralympic titles after he was chosen in the 12-person shooting squad.
The women's goalball team, who return to the Paralympic fold after a 12-year break, has also been named.
Shropshire's Brown, who won gold for England in a non-disabled event at the Commonwealth Games in Delhi in 2010, was beaten at the recent test event in Woolwich but is relishing the chance to defend her compound title later this summer.
"I'm delighted to have secured my place at the Paralympic Games, and am really excited to be taking part in what will be a fantastic summer of sport," said Brown, who moved from Yorkshire to Telford last year.
"I will be going to the Games as the defending champion, but the competition gets tougher every year, and the standards are rising all the time, which means I have to work harder to make sure I keep ahead of the chasing pack.
"I had a bit of a wake-up call at the test event and though I was disappointed with myself for losing it actually did me a favour, because it has now inspired me to work even harder to make sure that doesn't happen."
While Brown will defend her title, Shropshire's two other archery hopefuls, Kay Lucas and Peter Higgins missed out. But the disappointment for Lucas will be tempered by the fact that her husband Kim will be in London - as he is Dani Brown's coach.
Also included are Athens gold medallist John Cavanagh and 63-year-old Kate Murray, who was born in Woolwich, where the tournament will take place, and who looks likely to be the oldest British competitor in London.
Among the shooting team will be Di Coates, 58, who will be competing in her eighth Games, having made her debut in 1984 in Stoke Mandeville.
"I am very honoured to have been selected for my eighth Paralympic Games," said the Sydney gold medallist and former world record holder.
"To compete at a Paralympic Games is the pinnacle of any athlete's career and I am so pleased to have achieved this once again. If anyone had told me all those years ago that I would be preparing to compete in my eighth Paralympics, I'd have laughed, but here I am and I cannot wait to get out there again.
"The Games has changed so much in the last 30 years and competing again on home soil will be very special."
The women's goalball team secured the host nation place earlier this year and the five-strong squad recently competed in an international tournament in Malmo, finishing fifth.
Louise Simpson is the only member of the squad with previous Paralympic experience but performance director Dawn Newbery has praised the development that the squad has made.
"Goalball is the only team sport for women who are visually impaired and the team are now fitter and stronger and scoring more goals in open play," she said. "We also have a greater strength in depth across the squad and London 2012 provides a wonderful opportunity to showcase what an exciting sport it is with its blend of strategy and power."
Archery: John Stubbs, Richard Hennahane, Danielle Brown, Mel Clarke, Pippa Britton, Phil Bottomley, Kenny Allen, Murray Elliot, Paul Brown, Sharon Vennard, Leigh Walmlsey, John Cavanagh, Kate Murray
Goalball (Women): Georgina Bullen, Jessica Luke, Amy Ottaway, Louise Simpson, Anna Sharkey
Shooting: James Bevis, Adrian Bunclark, Ryan Cockbill, Richard Davies, Adam Fontain, Ben Jesson, Nathan Milgate, Matt Skelhon, Karen Butler, Georgina Callingham, Di Coates, Mandy Pankhurst.